This software allows users to create various types of CDs and DVDs, including data and audio formats, as well as rip audio from CDs. It can also burn video DVDs and ISO files.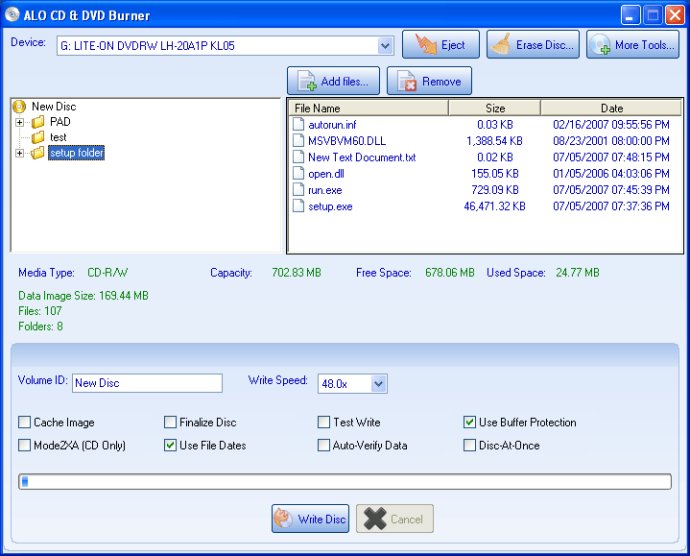 ALO CD & DVD Burner is a software that offers a convenient solution for managing, burning, and erasing major types of CD and DVD formats. This software is designed to be compact, fast, affordable, and easy-to-use, making it a great option for both personal and professional use.

Users can create and burn Audio CDs, disc images, MP3 and Data CDs, DVDs, Blu-Ray, and HD DVD discs. Additionally, with ALO CD & DVD Burner, users can burn video DVDs and ISO Files.

The software also has the ability to convert digital audio from CDs into various file formats, including MP3, WMA, OGG, AMR, AAC, AC3, and WAV files.

Some of the advanced features of this software include support for multisession burning, simultaneous burning, data verification, unicode file names, bootable discs and disc images, on-the-fly burning, multilanguage support, and Disc-at-once / Track-at-once modes.

Finally, ALO CD & DVD Burner supports multiple file systems, including UDF, ISO9660, and Joliet, as well as file and volume dates. Overall, ALO CD & DVD Burner is a great option for anyone looking for an affordable and reliable CD and DVD burning software.
What's New
Version 4.6.572: N/A
Version 4.6.571: N/A
Version 4.6.570: N/A
Version 4.6.569: N/A
Version 4.6.568: N/A
Version 4.6.567: N/A
Version 4.6.566: N/A
Version 4.6.565: N/A
Version 4.6.561: N/A
Version 4.6.560: N/A