InfoSeek is a powerful search tool for retrieving specific information from the internet and local files. It can extract email addresses, phone/fax numbers, zip codes, and more, helping users to gather customized data quickly and efficiently.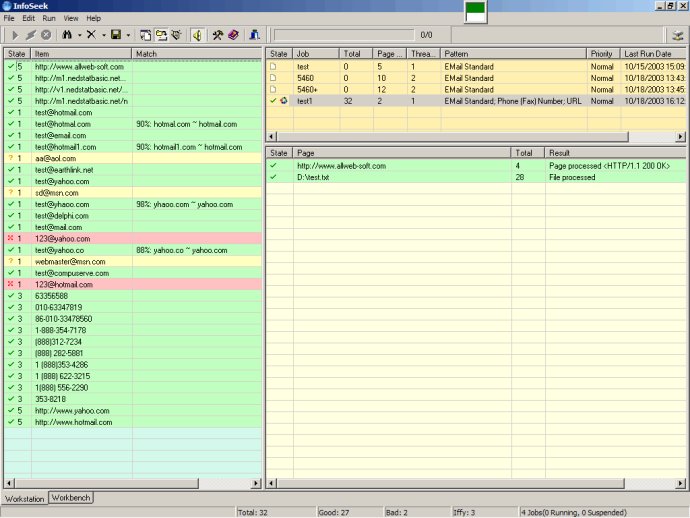 If you are looking for a powerful search tool for targeted information, then you should definitely try InfoSeek. This advanced software is designed to extract customized information from web-pages on the Internet and files on local disks. With a range of features specifically designed to make search tasks more efficient and hassle-free, InfoSeek is an excellent choice.

With Pattern Customization, it is easy to search for most types of information with customized patterns, not just email addresses. In addition, universal patterns are built in for immediate use. Keyword Search is another powerful feature that allows you to combine close search with search engines, making it easy to find all kinds of customized information with just a few clicks of the mouse.

With Logon Search, you can even search websites that require a login, while Multi-task and Multi-thread functions make the software an incredibly fast multi-tasking and multi-threaded engine that can run various jobs simultaneously. Another great feature allows you to categorize search results into three types: good, bad, and iffy, while the ability to delete items immediately is also supplied. Duplicate items are also removed automatically.

InfoSeek also comes with the ability to convert search results and perform string replacement, case conversion, and sort functions. There's also a handy feature that allows you to match search results against predefined targets to help identify mistaken items.

The software is flexible and has a multiform import/export feature for added convenience. There's even a built-in workbench for manual searches, and InfoSeek offers multi-language support too. All in all, InfoSeek is a powerful and feature-rich search tool that is sure to meet all your search needs.
What's New
Version 3.60: N/A