ARPCache is a registry tool for Windows that reveals and edits the secret storage area of Add/Remove Program items. This tool allows users to view and delete entries from the cache.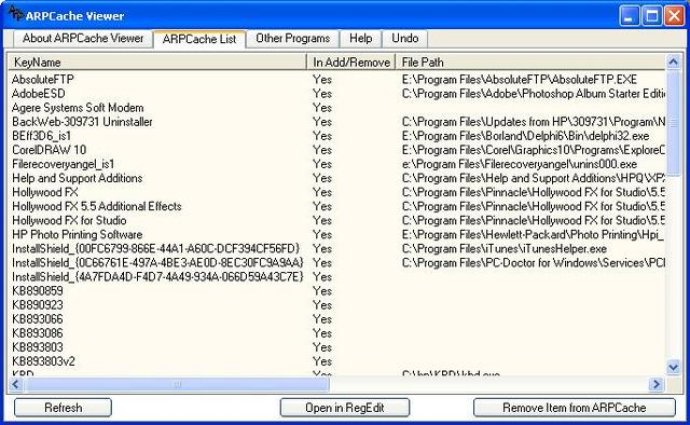 ARPCache is a tool that provides a solution for accessing the secret, undocumented section of the registry used to store information for Add/Remove Program items in the latest versions of Windows. The software helps you decipher binary files in the ARPCache of the registry, which is where certain information like size, frequency of use, and last used on are kept.

With this software, you have access to information that Windows automatically adds to the storage area but doesn't automatically remove items when they are uninstalled, resulting in a cluttered and chaotic system. It provides a solution for cleaning out the ARPCache, which can be used in conjunction with a good registry cleaner like RegVac.

ARPCache viewer is a freeware software and can be freely distributed as long as it is distributed in its entirety. This means that you can enjoy the benefits of this software without worrying about the costs. However, supporting free programs like this by purchasing other programs from the developers can go a long way in encouraging the production of more software.

It is worth noting that ARPCache is not ARP Cache. Some people have mistakenly confused this ARPCache (which obviously stands for Add Remove Programs Cache) with the documented ARP (which stands for Address Resolution Protocol) Cache of the Windows operating system. The documented ARP has to do with resolving IP addresses across networks, and this has nothing to do with the ARPCache in the registry.
What's New
Version 1.01.02: N/A
Version 1.01.01: N/A