Auto File DRM Encryption Tool is a software that provides transparent file encryption. It allows users to embed digital rights management (DRM) data to the encrypted files, ensuring that only authorized processes or users can access and read the encrypted content.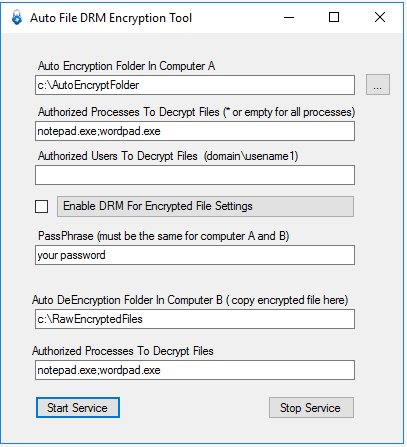 I recently had the opportunity to use Auto File DRM Encryption Tool, which was developed with the EaseFilter Encryption Filter Driver (EEFD) SDK. This tool impressed me with its ability to encrypt files transparently at the file system level. Not only does it encrypt the files, but it also allows you to embed digital rights management (DRM) data into them. This added layer of protection ensures that sensitive files remain secure throughout their lifecycle.

One of the standout features of this tool is its ability to restrict access to encrypted files. Only authorized processes or users are able to read the encrypted file, while unauthorized individuals can only access the raw cipher text. This level of control adds an extra level of security, ensuring that only those who are supposed to have access to the file are able to view its contents.

In addition to providing secure file access, Auto File DRM Encryption Tool also allows for secure file sharing. By managing custom DRM data on your central server, you have the flexibility to grant or revoke file access as needed. This ensures that you have complete control over who can access your files and when they can do so. Additionally, with the ability to track when and by whom the encrypted files were accessed, you have an added layer of visibility and control over your sensitive documents.

The EEFD SDK, which powers Auto File DRM Encryption Tool, offers a comprehensive security solution for developing transparent on-access file-level encryption products. This includes the ability to encrypt newly created files transparently and to authorize or block on-access encryption/decryption based on client-defined policies. With the extensive control capabilities provided by the EEFD SDK, you can establish secure access control policies to protect your encrypted files and prevent unauthorized access.

Through the use of access control policies, you can establish whitelists and blacklists of processes or users who are allowed or denied access to the encrypted files. Users on the whitelist can access the clear text of the encrypted files, while those on the blacklist can only access the raw cipher text. This granular control over file access ensures that only trusted individuals or processes can view sensitive information.

Another impressive feature of Auto File DRM Encryption Tool is its ability to embed DRM data directly into the encrypted file. This allows for protection and monitoring of business-critical documents, such as intellectual property and product designs. No matter where these files reside or are distributed, you can maintain control over them. By customizing the DRM settings, you can set expiration dates for encrypted files and retain the ability to grant or revoke control over them at any time.

In conclusion, Auto File DRM Encryption Tool offers a powerful solution for transparent file-level encryption with a host of additional features. Its integration with the EEFD SDK provides comprehensive security capabilities, including flexible access control policies and the ability to embed DRM data. Whether you need to protect sensitive files, control access to encrypted documents, or secure your intellectual property, this tool is a reliable choice.
What's New
Version 5.2.5.4: new release