Awave Audio is a comprehensive, batch-oriented software tool that performs fast conversion of about 110 different file formats. Equipped with a variety of built-in tools, it offers professional noise shaping dithering and resampling, allowing users to easily optimize their files to meet their specific needs. Additionally, it supports VST plug-ins, offering users an additional level of effects-processing capabilities.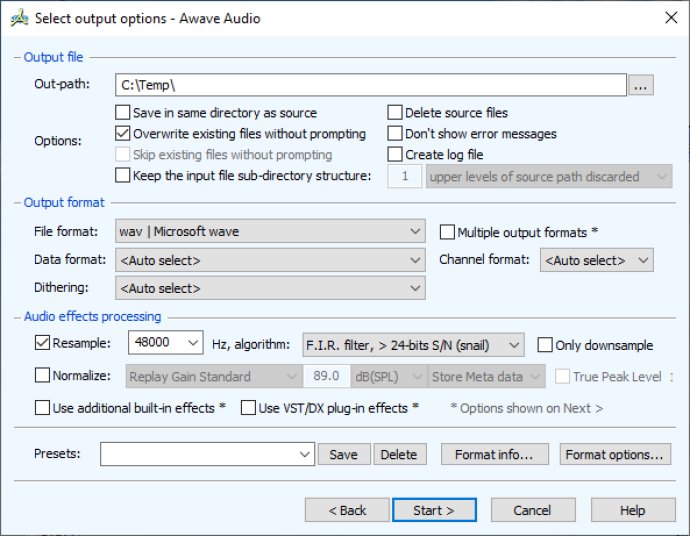 The Audio File Format Batch Converter is a multi-functional software that supports a wide range of audio file formats, allowing the user to read from around 110 and write to about 75 different formats. The simple 3-step interface makes it easy to convert a thousand files as quickly as it is to convert one.

This software has a feature that sets no limits on file size except for disk space and the design limits of the file formats. It also offers the ability to convert anything from low-rate mono speech up to 24/96 multi-channel audio. Moreover, dithering techniques are included to enhance sound quality when reducing the sample bit-depth.

The Audio File Format Batch Converter offers an extremely high quality sample rate conversion with up to 144dB S/N-ratio, and with optional audio processing using VST plug-ins as well as built-in functions. It has a convenient normalization support feature that includes Replay Gain, ITU BS 1770 and EBU R 128 algorithms for psycho-acoustically adjusted volume.

This software also has 'Direct Stream Copy' support for data types, which provides a speed advantage and allows addition of meta data without recompressing audio. It handles many types of text meta-data such as APE-tags, ID3v2 et cetera, with full Unicode support. Furthermore, it has image meta-data support for embedded album covers.

The Audio File Format Batch Converter is a highly efficient software that offers a variety of features and functions that cater to the user's specific audio conversion needs. There are many more features incorporated in the software, making it a must-have for any audio conversion task.
What's New
Version 11.3: New in v11.3: Support for embedded image meta data, EBU R 128 loudness range calculation, and Direct Stream Copy of Ogg Vorbis data.