BIGACE is a PHP and MySQL-based dynamic web content management system that is easy to use, flexible, and fast. It can manage multiple sites, users, and languages and has a straightforward installation process.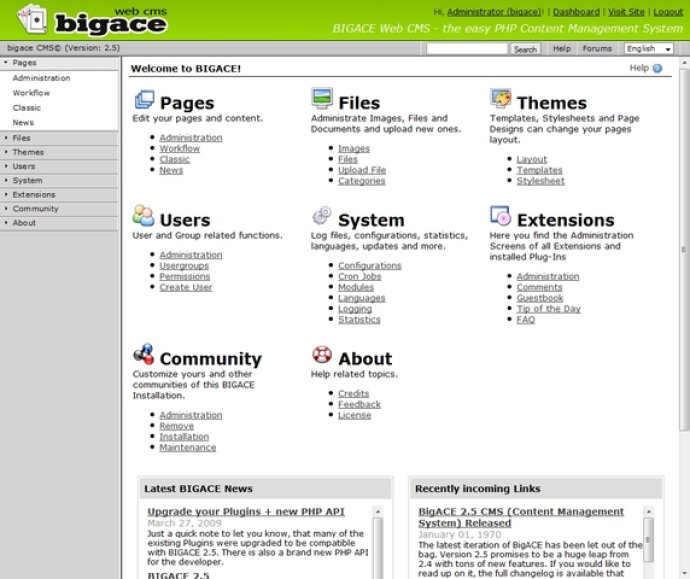 If you're looking for a professional and user-friendly CMS that won't put a heavy strain on your server's resources, then BIGACE Web CMS might just be the software you need. This free software package is the next generation of CMS, offering a powerful backend and a range of features that allow you to take full control of your website's layout, service, and content in just minutes.

One of the standout features of BIGACE is its ease-of-use. With a fully-integrated WYSIWYG editor and customizable templates and stylesheets, you don't need to be an expert in coding or web development to create a stunning website that perfectly suits your needs. Additionally, BIGACE is a multisite, multilanguage, and multiuser CMS, written in PHP for MySQL, making it suitable for a wide range of users, regardless of skill level.

Another added benefit of BIGACE is its content versioning and workflows. With this feature, you can easily make changes and revisions to your website's content without worrying about losing previous versions. Plus, with full backend access and the object-orientated PHP API, developers can work with BIGACE seamlessly and without having to know SQL or DB Structure.

Overall, BIGACE is a reliable and efficient CMS that provides everything you need from a website management system. With its range of features, ease-of-use, and focus on minimal server impact, it's definitely worth considering for your next project. Best of all, it's completely free and always will be!
What's New
Version 3.0: N/A
Version 3.0 beta: N/A
Version 2.7: N/A
Version 2.5: N/A