This software offers animated weather radar and satellite, local temperature displayed in the system tray, along with sun and moon rise times. It also provides local weather, an internet time sync, a map, animated moon phase, planets, eclipse details, equinox/solstice information, meteor tracking, dictionary and thesaurus, calculator, full year calendar and 27 holidays.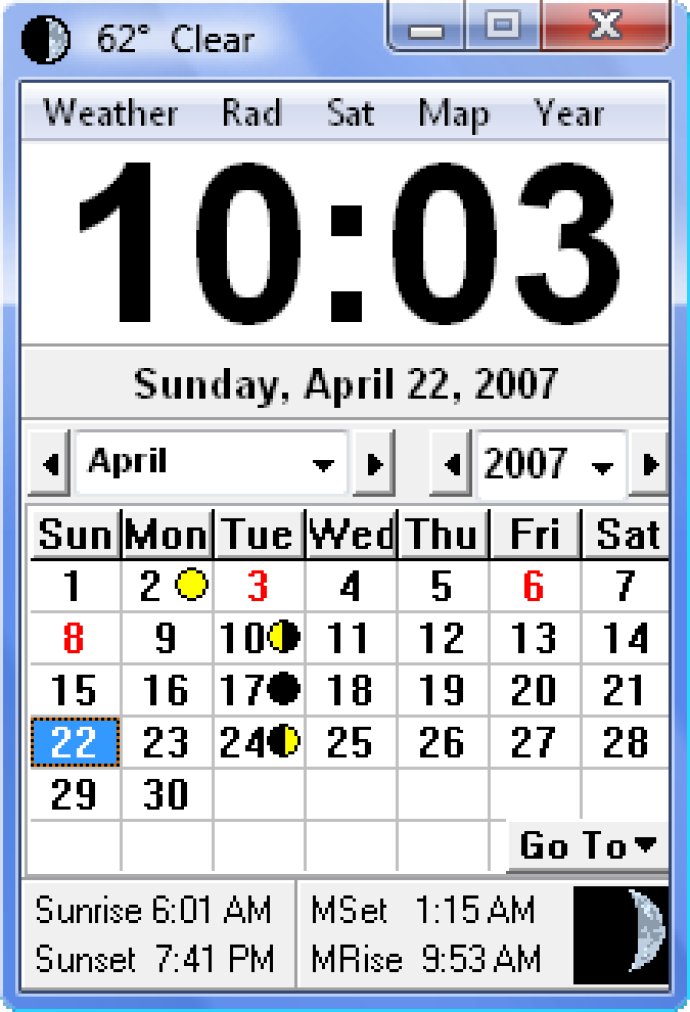 Click Clock is a fantastic multi-functional software worthy of a review. This program combines a clock, calendar, weather, and astronomy information all in one place. It has a small temperature display in the tray that shows the local temperature. Aside from that, it also offers animated weather radar, satellite images, daylight saving time, 27 different holidays, moon phases, eclipses, meteor showers, equinoxes and solstices, and so much more.

The software displays the location of the moon, sun, and all the planets. In addition, it allows you to view this information for any day from the year 1600 to 3429. It even comes with links to aerial photos, maps, topographic maps, meteor info, images of the moon, dictionary, thesaurus, and calculator.

One impressive feature of Click Clock is the picture display of the current moon phase in the program, on the task bar, in the tray, and in the window icons. It also has an animated display of the changing moon phases. The position of planets in the sky is presented as simple compass positions and angles relative to the horizon.

The software provides a clock and calendar for one month and a calendar showing the whole year for any year. If you double-click on the program, you can change its size and appearance, hence the name ClickClock. Additionally, the clock can synchronize with any atomic clock time server on the internet.

Click Clock is unique in that the software takes into account your altitude above sea level, which may change the time of events like sunrise and sunset. It even gives an accurate rise and set time graph for an entire year.

This is a 32-bit program that is compatible with Windows 98, ME, NT, 2000, XP, and Vista. The trial version operates for 14 days, after which it costs $20.00 (Twenty US Dollars) to purchase. However, you only have to pay once, and all future upgrades come free of charge. This software is fully functional with no features removed, no spyware, and no advertising.
What's New
Version 2.9.8: Multi-thread, more satellite views