Automate repetitive tasks with one-click actions and hotkeys using our software. Say goodbye to typing the same text repeatedly and spending time looking for programs or web pages through menus. Save time and streamline your workflow with easily configurable hotkeys.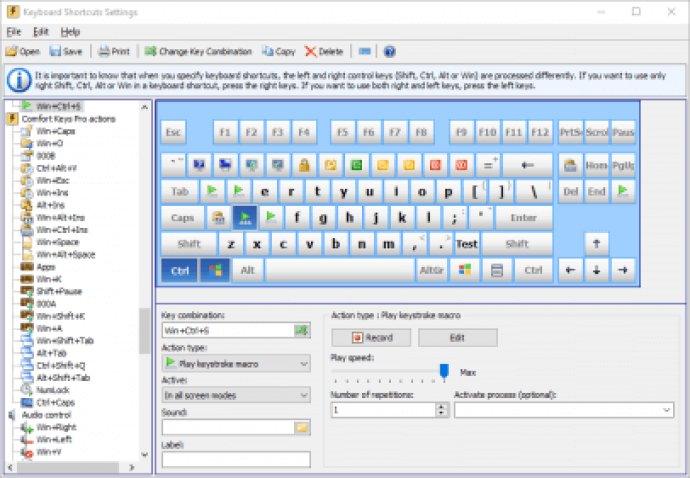 If you're tired of wasting time with repetitive tasks on your computer, then Comfort Keys is the solution you've been searching for. With this hotkey manager, you can quickly perform any routine action with just one click, saving you both time and effort.

Gone are the days of endlessly searching through menus to find the app or webpage you need. With Comfort Keys, you can leave your mouse alone and configure hotkeys for all of your commonly used actions. It's just like being a real pro!

Comfort Keys offers a range of features to make your life easier, including launching apps and opening web pages with a single hotkey, inserting predefined texts using hotkeys or the built-in template manager, and controlling sound volume in a quick and convenient manner. You can even record key press sequences and play them back as many times as you need.

The software goes beyond simple hotkey management, allowing you to block some keys or simulate the press of a specific key when another one is pressed. And that's just the tip of the iceberg – there are many more features to be discovered.

To make sure you always have a visual reference for your hotkeys, Comfort Keys integrates a fully functional on-screen keyboard showing all available hotkeys. The software also includes a clipboard manager, text and graphic templates manager, an enhanced application switching window, and a history window for previously launched apps.

In short, Comfort Keys is an essential tool for any professional who wants to save time, reduce repetitive strain injury, and make their work simpler and more efficient. Try it now and see how much more productive you could be!
What's New
Version 9.5: https://www.comfortsoftware.com/comfort-keys/version-history/