This utility converts Outlook MSG files to PST, including messages, contacts, appointments, tasks and notes. It can handle numerous MSG files in various folders and produces one or several PST files based on settings. And it's free!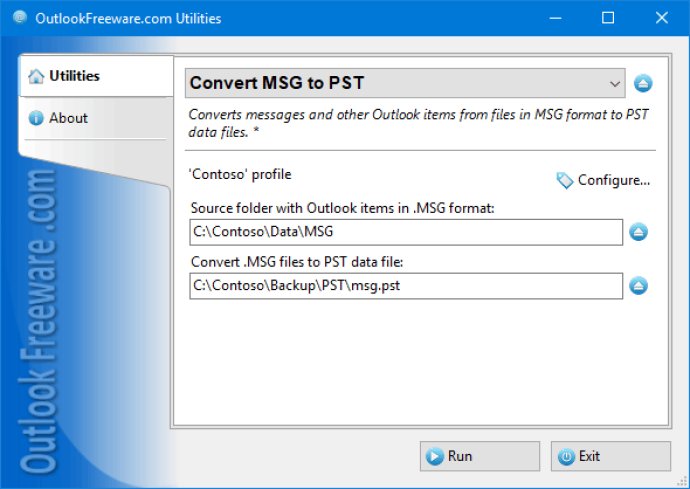 Are you tired of manually converting your Outlook files from MSG to PST format? Look no further! Our free utility is here to take care of all your conversion needs.

With our software, you can easily convert messages, contacts, appointments and meetings, tasks, notes, and any other Outlook items from MSG files to PST. Depending on your settings, our utility can even convert a large number of MSG files in different folders into one or more PST files.

One of the best features of our software is that it creates the correct type of Outlook folder structure for you. You can even split the resulting PST files by size, year, or other parameters.

Outlook uses both PST and MSG files to store its data, but the difference is that the MSG file only stores one Outlook item (message, contact, task, etc.) while the PST file contains folders of different types that store many Outlook items.

But don't worry, our software can handle all of this! After the conversion process, you can easily connect the resulting PST files to Outlook using built-in functionality. Plus, if you specify an additional destination folder name, a folder with that name will be created in the resulting PST file, and all the converted data will be placed in it.

Our software also supports additional sorting of items by dates, parts of subject, addresses, and other message fields so that you can easily find the information you need.

And the best part? With our configurable filters, you can convert only contacts, only messages with attachments, only files smaller than the specified size, and many other options.

During the conversion process, you can even move the source MSG files to another folder so you can run the conversion several times with no duplicates appearing in PST files.

If you're a power user, you'll love our command line utility. With it, you can convert MSG files to PST in batch or automatic mode, use the utility in various migration scenarios, and even backup your Outlook data.

Overall, our software is a must-have for any Outlook user looking for an efficient and hassle-free way to convert their files from MSG to PST format. Download it today and see for yourself!
What's New
Version 4.20: New features and enhancements.