The Data Doctor SIM SMS recovery software retrieves lost text messages from damaged SIM card memory and recovers lost contact information such as phone numbers, names, and call history with date and time.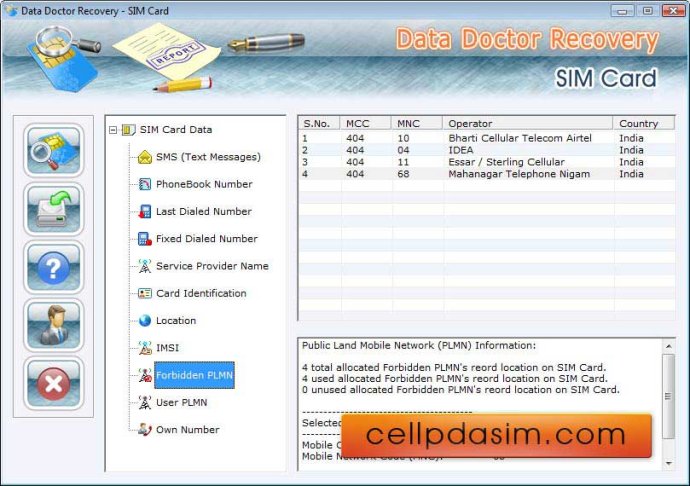 This software provides an efficient and quick way to recover SMS messages from SIM cards. It is compatible with all SIM cards from any service provider around the world. The program can recover intentionally or unintentionally deleted contacts and unreadable text messages. It can be used with mobile phones from leading manufacturers such as Nokia, Siemens, LG, Samsung, Motorola, and more. The program can also recover lost information from virus-infected or corrupted SIM cards.

This SIM card SMS restoration program supports Microsoft Windows operating systems such as Windows 98, ME, NT, 2000, XP, 2003, and Vista (Starter, Home Basic, Home Premium, Business, Enterprise, and Ultimate). The software is compatible with PC/SC or phoenix standard USB SIM card readers. It can easily recover phonebook entries, dialed, received numbers, and fixed dialed numbers.

The program immediately displays inbox, outbox, sent and received text messages from corrupted mobile SIM cards. Some of the features of this software include the ability to restore inadvertently erased text messages or contact numbers, take up less space and time during installation, and not affect system performance. This program has a user-friendly GUI wizard and help manual, enabling anyone to easily operate it irrespective of technical or non-technical background.

As a read-only and non-destructive SIM recovery utility, it helps in forensic research and crime investigation. The program retrieves all information of cell phone SIM with ICC-ID, IMSI number, and service provider name.
What's New
Version 9.0.1.5: Added support for blocked SIM card data recovery