This USB data recovery software recovers lost files such as JPGs, MPEGs, PPTs, DOCs, PDFs, and XMLs from all branded pen drives. The pen drive file recovery tool also restores damaged folders, corrupted documents, erased photos, missing audio or video clips, and songs.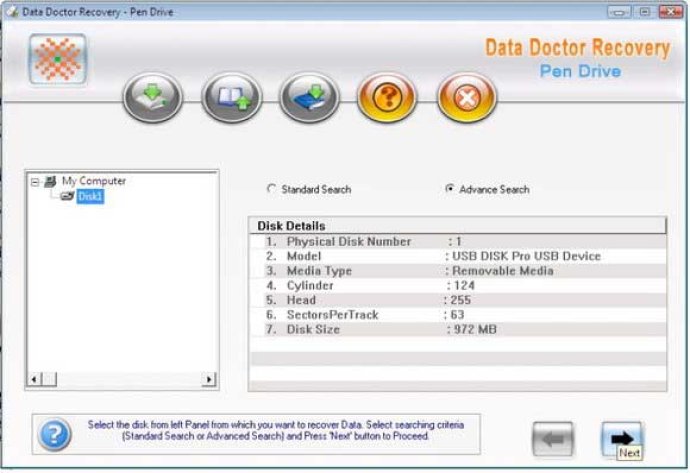 If you're looking for a reliable software to recover your lost data from damaged pen drives, then Data Doctor USB Drive Recovery is your solution. This program is designed to restore all the accidentally lost files such as jpg, jpeg, mpg, mpeg, pdf, rtf, xml, doc, txt, png etc. from corrupted pen drives.

Not only does this application support all capacities of pen drives, including 64MB, 128MB, 256MB, 8GB, 16GB and more, but it also retrieves lost media file formats such as wav, mov, midi, mp3, mp4 from inaccessible USB drives. In addition, it supports all Windows operating systems, including Windows Vista (Home Basic, Home Premium, Business, Ultimate, Enterprise, Starter).

This USB drive file salvage software offers features such as interactive GUI interface which make it easier for both technical and non-technical users. With its easy-to-use mechanism and features, this tool rescues everything from deleted pictures and photos to formatted audio, songs, video clips, and even MS word documents. It can restore lost data even when ERROR 'DRIVE NOT FORMATTED' message is displayed on your PC.

Finally, Data Doctor USB Drive Recovery utility lets you rescue deleted files from such branded pen drives as Kingmax, Kingston, Lexar, Philips, Samsung, Sony, Toshiba, Dell, etc. Get ready to save time and recover all your valuable data with this software.
What's New
Version 4.0.1.5: Added support for windows Vista operating system