This flash card data retrieval software recovers lost multimedia files such as images, videos, audio, and clips. It also retrieves all file types including JPEG, TIF, MPEG, GIF, and BMP. It is capable of restoring corrupt data from all types of compact flash cards.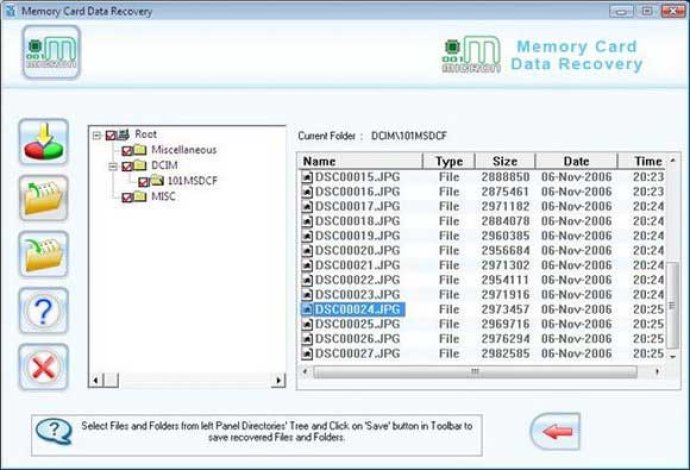 The Micro M2 Stick file revival software is a remarkable program that assists users with the recovery process of salvaging file formats such as jpg, jpeg, gif, riff, tiff, bmp, mpeg, and many more. This software provides the safest and easiest solution for corrupted file recovery from storage media including compact flash memory cards, mobile PC cards, PDA handheld computer cards, memory sticks, smart media, multimedia cards, and more.

One of the most impressive features is that the Pro Duo memory sticks data recoup technology has a Graphical User Interface (GUI) functionality that works on all Windows operating systems like 98, NT, ME, XP, Vista, and many others. Additionally, the PSP Memory card files retrieval tool can renovate lost data when error massages such as "drive not formatted" or "drive not detected" are shown on the monitor while you are accessing your devices.

Another remarkable feature is that the memory sticks Pro Duo data restoration utility is supportive of all manufacturers of digital media devices, including Canon, Casio, Hp, Kodak, Konica, Philips, Ricoh, Samsung, Sanyo, Sony, Yakun, among others. The compact flash card files recovery application has read-only and non-destructive wizards and can run on all major capacities such as 128MB, 256MB, 512MB, 1GB, 2GB, and higher capacities.

Moreover, the free memory sticks data recovery trial software provides non-destructive functionality and can run on all Windows operating systems like XP, Vista, among others. The Fujifilm XD cards revival tool rescues your deleted images, photographs, pictures, audio videos, and data files from digital devices. The MMC card data restoration utility is a GUI (Graphical user interface) based application and provides support for all digital device brands like Acer, Canon, Casio, Kodak, Konica, Nikon, Olympus, Samsung, Sanyo, Sony, and more.

In summary, this Micro M2 Stick file revival software is a truly helpful and essential tool for any user who wants to recover lost or corrupted data from various storage media. It is reliable, easy to use, and provides support for various file formats and digital device brands, making it a must-have for any personal or professional use.
What's New
Version 5.8.3.1: Added support for Vista ultimate and business