DataNumen Outlook Repair is an efficient software for recovering corrupted Outlook data. It scans damaged PST files and recovers all mailbox items, ensuring a quick and effective solution for fixing Outlook issues. Get your valuable data back with ease using this powerful tool.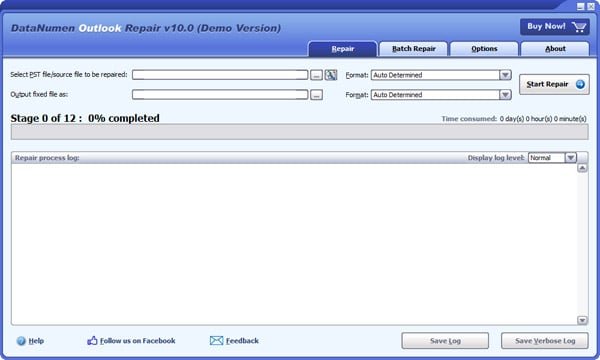 DataNumen Outlook Repair(formerly Advanced Outlook Repair) is a remarkable software that is designed to be the perfect Microsoft Outlook recovery tool.

This software is equipped with advanced scanning technologies that scan the corrupt or damaged personal folder files(.pst) to recover your mail messages and all other items with maximum accuracy, in order to minimize file corruption loss.

The software offers many useful features such as support for 32bit and 64bit Outlook 97 to 2019 and Outlook for Office 365. It also supports the recovery of mail messages, folders, posts, appointments, meeting requests, contacts, distribution lists, tasks, task requests, journals, and notes in PST files.

All properties such as subject, to, from, cc, bcc, date, etc. are efficiently recovered.

DataNumen Outlook Repair also supports the recovery of mail messages in plain text, RTF, and HTML format with the attachments, including documents and images attached to messages and embedded in HTML bodies. In addition, the software supports the recovery of embedded objects, such as another message, Excel Worksheets, Word documents, etc. It can also recover deleted Outlook items without any hassle.

This software has a unique functionality that enables the repair of oversized 2GB PST files, and can split the output PST file into several small files. It supports the recovery of password protected PST files of all types of encryption, including compressible encryption and high encryption(or best encryption).

DataNumen Outlook Repair also supports the conversion of PST files from Outlook 97-2002 format into Outlook 2003-2019/Outlook for Office 365 format, and vice versa. It can recover Outlook data from various undamaged or damaged virtual machine disk files, backup files, and disk image files. It can repair PST files on corrupted medias, such as floppy disks, Zip disks, CDROMs, etc. Additionally, it can repair a batch of PST files with the help of the drag and drop operation.

Finally, the software supports the use of command line parameters, which allows for greater flexibility and control over the repair process.

Overall, DataNumen Outlook Repair is the best software available for Microsoft Outlook recovery, with its extensive features that guarantee maximum accuracy and efficiency while minimizing file corruption loss.
What's New
Version 10.0: - Support Microsoft 365.
- Fix some bugs.
Version 9.5: - Improve the recovery rate.
- Fix some bugs.
Version 9.0: - Improve the recovery speed.
- Add help document for Spanish, French, German, Italian, Portuguese, Russian, Japanese, Korean, Simplified Chinese and Turkish.
- Fix some bugs.
Version 8.8: - Support Outlook 2021 and Outlook for Microsoft 365.
- Fix some bugs.