The Oracle data generator provides an array of basic and user-defined generators for different data types, custom templates, and flexible settings. It offers accurate and efficient test data generation, with a user-friendly interface.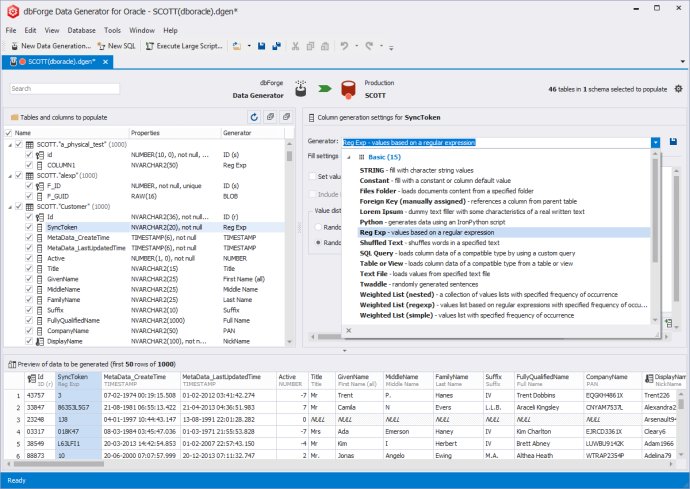 Are you tired of manually populating your Oracle database with test data? Look no further than dbForge Data Generator for Oracle - a powerful GUI tool that can generate large volumes of realistic test data with ease.

This software boasts an extensive collection of over 200 predefined and customizable data generators for various data types, allowing for flawless and quick data generation. With flexible options and templates, you can even create your own custom data generators to suit your specific needs.

Some standout features of dbForge Data Generator for Oracle include the ability to generate data for multiple Oracle database versions, support for inter-column dependency, and the automation and optimization of data generation tasks through the command line.

By using meaningful test data, this software can add reliability to your applications and eliminate risks associated with accessing secure data. Additionally, you can output the data generation script to a file and increase testing efficiency by sharing and reusing datasets.

It's easy to stay up-to-date with the latest version of dbForge Data Generator for Oracle - simply visit the official Devart website. Save time and improve your testing processes by giving this powerful tool a try.
What's New
Version 2.4: * Added connectivity support for Oracle 21c