ezCheckPersonal software is a user-friendly check designing and printing tool for personal use. With its ability to work with blank check paper, it helps users to save money on checks. The software supports 3 or 4 checks per computer check paper, sized 8-1/2" X 11".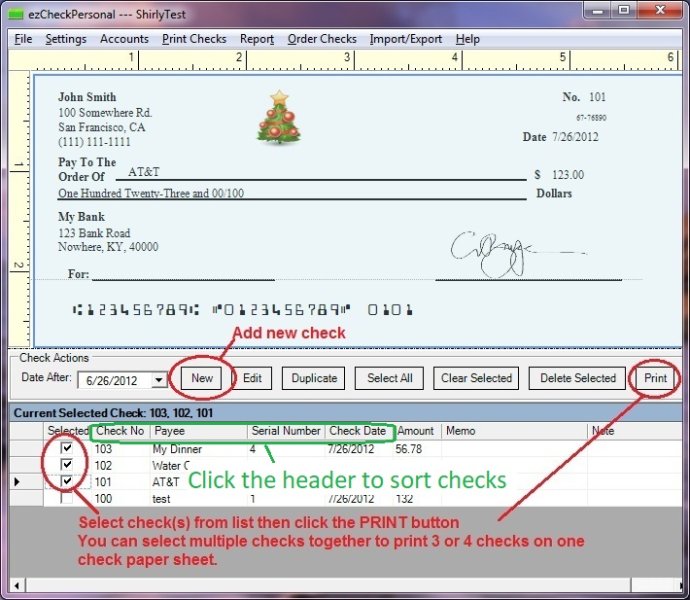 If you're looking for a personal check designing and printing software that is affordable and easy to use, look no further than ezCheckPersonal. This software is ideal for personal use and can save you money on checks.

One of the great things about ezCheckPersonal is its versatility. It works with blank 3 or 4 checks per computer check paper that is 8-1/2" X 11" in size. Additionally, the default personal check size is 6" X 2-3/4".

Thanks to the software's ability to print checks from blank check stock and create pre-printed personal bank checks, you can create professional-looking checks with your logo and signature in no time. All of this can be done from the comfort of your own home printer.

Another advantage of ezCheckPersonal is its ease of use. With just a few clicks, you can customize your check layout and print your first check in minutes. This feature saves you time and makes the entire process efficient and stress-free.

Perhaps the best part about this software, however, is its affordability. For just $24.00, you can print personal computer checks using ezCheckPersonal. And, if you're lucky, you may even be able to get the software for free through halfpricesoft.com's special offer!

All in all, ezCheckPersonal is a fantastic choice for anyone in need of a reliable and cost-effective personal check printing software.
What's New
Version 2.0.7: update installation package