FileGhost is a versatile security tool that safeguards files, folders, and even volumes. It enables users to perform functions like locking, hiding, and restricting reading and writing, preventing deletion, copying and moving. It is a great addition to antivirus and firewalls for enhanced security.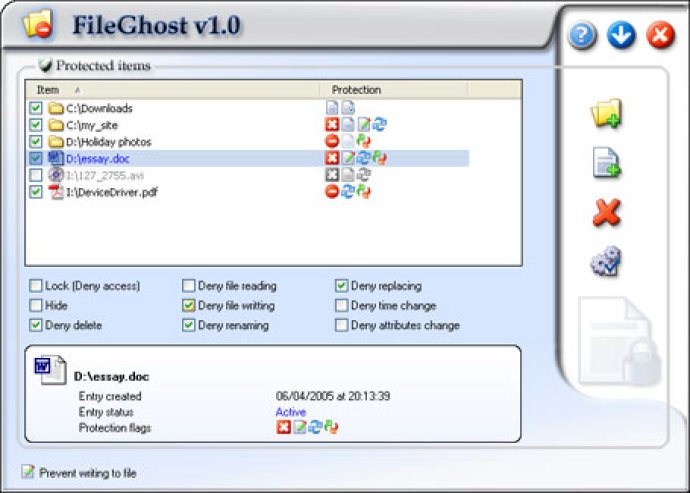 FileGhost is an exceptional security software tool that provides unparalleled protection for your files, folders, and even entire volumes. It delivers a variety of security mechanisms enabling you to securely lock, hide, deny file reading or writing, prevent deletion, copying, moving, renaming, or replacing files. Additionally, the tool can prevent file attribute or timestamp alterations.

FileGhost has an intuitive interface, and users can effortlessly secure their important data by dragging and dropping files then setting desired checks, and protection will be activated immediately. This ensures that unauthorized individuals cannot access files or modify the files' content. Furthermore, the software can safeguard against malicious programs such as viruses, trojans, spyware, and others, providing maximum file security.

Besides file protection, the software provides numerous options for securing your system. One such option includes setting a password to safeguard access to the program. The feature ensures that no one alters the configuration, securing your data and providing peace of mind.

FileGhost is an excellent supplement to antivirus and other anti-malware software. It provides an additional layer of protection by preventing unauthorized access to your files and system. The software not only improves your data security but also enhances your system's overall security.
What's New
Version 1.0: N/A