iToolab FixGo is a software that provides a solution for various iOS device issues such as stuck on white/black screen or Apple logo, DFU mode, restart loop, bricked or frozen screen, and more. It offers a comprehensive fix for unresponsive devices.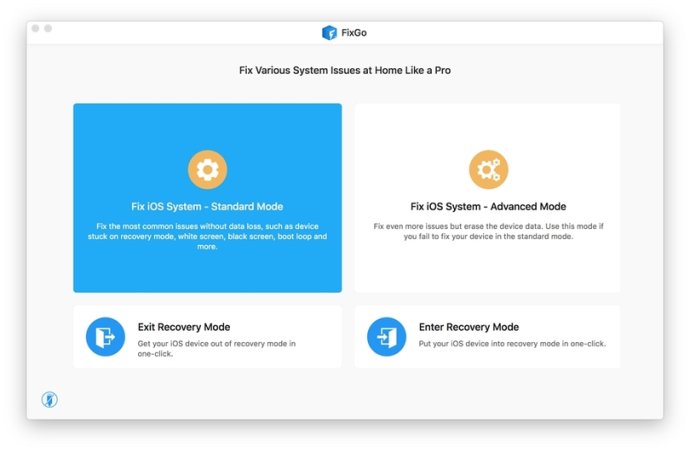 Are you constantly struggling with iOS problems and don't want to spend a fortune on hiring a technical specialist? The solution is here! With iToolab FixGo, you can fix various iOS system errors right at home. No more anxiously waiting in line at the Apple Store.

iToolab FixGo provides an extensive list of common problems that iOS users often face. This includes an iPhone stuck in recovery mode, spinning circle, Apple logo, a frozen device, a boot loop, and much more. It can even fix problems like the white or black screen of death. With iToolab FixGo, you can easily fix your problems at home without the need for professional services.

Apart from the Standard Mode that can fix the most common problems without causing data loss, the Advanced Mode is perfect for fixing those stubborn issues that are often troublemakers for users. It is perfect for serious and complicated problems, where the other standard mode falls short.

One of the best things about iToolab FixGo is that it ensures that your data remains safe during the repair process. It has a user-friendly interface that makes it easy to understand and work with. You can easily enter or exit recovery mode without any buttons on your device and without worrying about your data being affected.

iToolab FixGo is not only limited to iPhone and iPad problems, but it can also fix common Apple TV issues. Be it the Apple TV stuck on the Apple logo, Recovery Mode, or not turning on, iToolab FixGo can solve all these problems without any data loss.

Not only can you fix problems with iToolab FixGo, but you can also downgrade your iOS to any supported versions without any data loss. With iToolab FixGo, you finally have a way to solve your iOS problems from the comfort of your home.
What's New
Version 2.5.0: Optimize the downgrade firmware feature.
Version 2.1.0: 1. Added iOS downgrade function.
2. Fixed some bugs in iOS 14.5.