FreshFind is a time-saving software that grants users instant access to preferred search engines, with a hotkey activation feature. The software runs with minimal memory usage and operates inconspicuously in the background.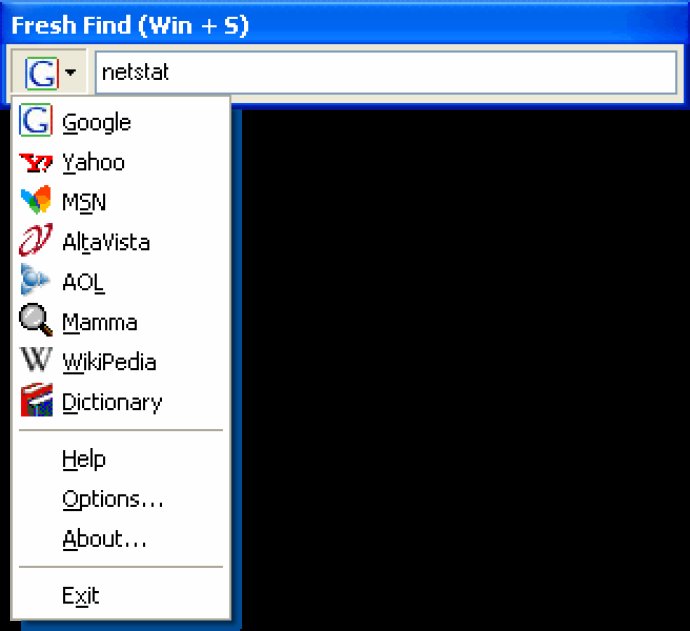 FreshFind is an incredibly useful software that provides instant access to your favorite search engines without having to launch your browser or search page manually. This application runs discreetly in the background and takes up very little memory. The program is activated by a convenient global hotkey, making the search process quick and hassle-free.

All you need to do is type in your search query directly into the program and hit enter. Within seconds, you'll have access to an extensive list of search results that meet your needs. This allows you to spend less time searching and more time focusing on other important tasks.

One of FreshFind's most useful features is the ability to add custom search engines. This allows you to access your preferred search engine, no matter what it is, and save time in the process. Additionally, this program keeps track of the amount of time it has saved you since installation, proving its value as a time-saving tool.

Overall, FreshFind is a fantastic software that streamlines the search process and saves you time. Its ability to run in the background without consuming much memory and its support of custom search engines make it a must-have for anyone who spends a lot of time searching the web.
What's New
Version 1.3: Can now search Google Desktop, if it is installed.
Can now go directly to a URL: enter URL, then <Shift>-<Enter>
Installer now has cool graphic