This software offers a comprehensive database of geographical information on Germany, including towns, municipalities, administrative units, postal codes, and more. It also includes nature areas, landscapes, and climatic zones for proximity searches.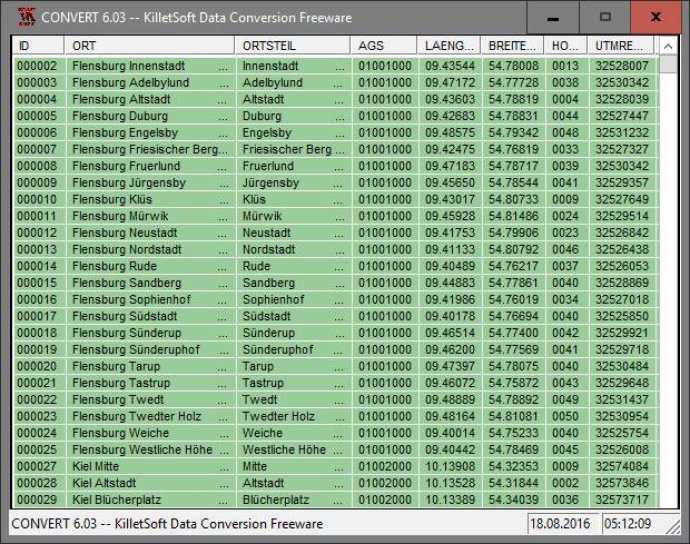 This software review will cover the database tables containing geodata of the Federal Republic of Germany. The tables cover a wide range of administrative units such as towns, municipalities, and town quarters, postal codes, telephone preselections, nature areas, landscapes, climatic zones, and official topographical cartographies. The data within these tables contain coordinates for geocoding and navigation, proximity searches, distance computations, and are prepped for spatial mapping of environmental information.

Geo-referencing is an important aspect of this software as it allows users to reference an address field, like town or municipality name, postal code, or telephone preselection, to corresponding geographical data and coordinates. This is essential for conducting proximity searches like directing a customer to the closest store location of a retail chain. Users can also determine distances between different objects in the database table utilizing the included geo-references.

Additionally, this software's elevated data from a digital elevation model can determine the ground level height of each place. Knowledge of affiliations and relationships between data derived from different hierarchies is also provided, allowing users to determine which federal state, governmental area, or county a town, postal code or telephone preselection is associated.

A variety of natural and scenic information is available for each town or municipality, including snow and wind load zones and solar irradiation as local climatic data. In conjunction with the ground level heights, they can be used to calculate static loads for building constructions and to calculate solar installations.

Overall, this software provides extensive databases with 11,500 towns and municipalities, 108,000 town quarters, 31,000 postal codes, 19,500 telephone preselections, all with geo-references, 400 administrative counties, administrative districts, federal states of Germany, landscapes, nature area classification, snow, and wind load zones, solar data, cartographies.
What's New
Version 25.02: All tables updated to the data status of 1 January 2021. Table LASTEN supplemented with snow loads >3 and >3a. DHDN coordinates in degree notation and Google Plus codes added. Formerly municipial free areas added and landscapes completed. Snow and wind loads and solar radiation from all locations.