The PDF page numbering software has several features, such as suffix/prefix setting, page range selection, page count definition for groups, reverse numbering, custom text labels, and alignment.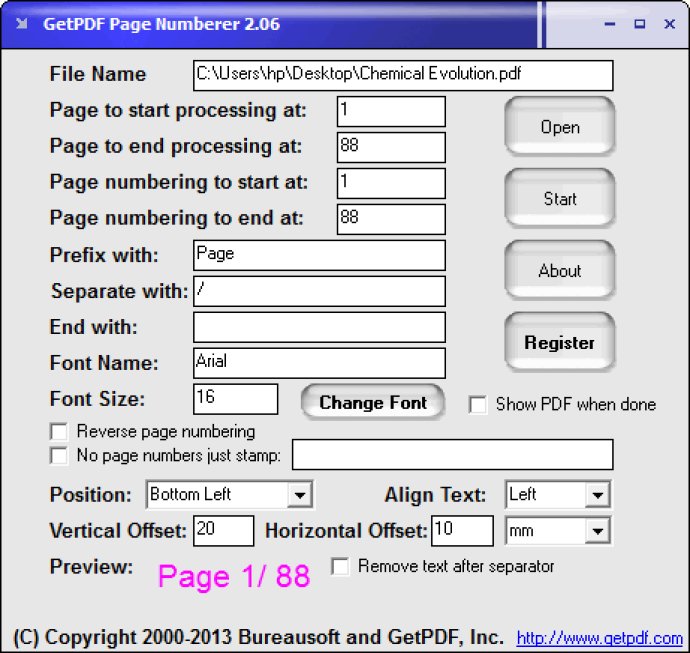 Are you looking for a reliable software to assist with numbering PDF pages? GetPDF Page Numberer is an optimal choice for you. This software has a plethora of impressive features that will leave you impressed.

One of its most commendable features is the ability to set a prefix and suffix for page number, which means you have total control over the placement of page numbers. This software also allows you to select the pages you would like to process by setting a page range, as well as defining start and stop page counts for page groups.

GetPDF Page Numberer also offers the convenience of reversing page numbering, a viable option for professional documents. This beginner-friendly software also features custom text stamping and alignment, giving you options to customize your document's appearance.

Another aspect that puts GetPDF Page Numberer at the forefront is the custom positioning of page numbers, and it's a standalone software that doesn't require Adobe Acrobat to function.

In conclusion, GetPDF Page Numberer is efficient, easy to use, and comes loaded with a bunch of helpful features. Its versatility means that it can cater to the needs of students, professionals, and businesses alike, making it a valuable investment.
What's New
Version 2.06: Support page numbering scanned PDF documents. Microsoft Windows 8.1 x64 and x86 compatible.