This software automatically selects between 'Power Saver' and high power schemes based on your usage, maximizing battery life on laptops and providing cool and quiet computing experience.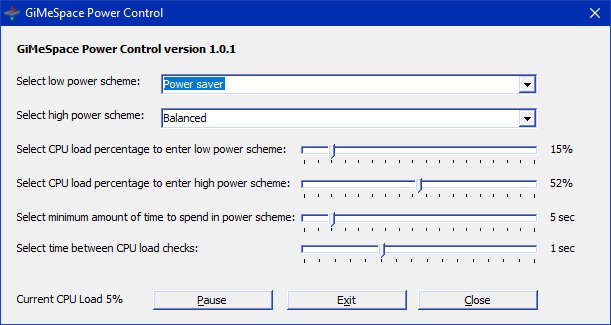 This software is a great solution for those looking to save battery life on their laptop or have a cooler and quieter computer. The 'Power Saver' energy scheme is often recommended in such cases, however, it's not always practical when loading programs or performing CPU-intensive tasks. GiMeSpace Power Control solves this issue by automatically switching between low and high power energy plans based on the CPU load.

The program allows you to select the two power schemes you want to switch between, either the system default schemes or custom schemes. We recommend using 'Power Saver' as the low power scheme and 'Balanced' as the high power scheme for the best results. 'Balanced' provides more dynamic CPU frequency adjustments than the 'High Performance' scheme.

In addition to selecting the power schemes, you can adjust the CPU loads that trigger a switch between them. The low setting is the percentage that triggers a switch to the low power scheme if the CPU load drops below this number; around 10 to 20% is typically recommended. The high setting is the percentage that triggers a switch to the high power scheme if the CPU load goes above this number; around 50 to 60% is usually appropriate. Once the switch to the high power scheme has been made, the CPU load drops automatically because there is more CPU capacity available on a higher frequency.

To prevent too much switching, you can select the minimum time that needs to pass before a switch back is allowed. Additionally, you can set how often the CPU load is checked. At one-second intervals, the program is quick to respond and measures the CPU load accurately. Manual switching is also available through simply clicking on the notification area icon. A right-click on the icon brings up a menu of options.

Overall, GiMeSpace Power Control is an efficient and effective software solution for those looking to balance energy savings with the need for higher performance when necessary.
What's New
Version 1.1.1.16: Has now overheating protection by monitoring the temperature of your CPU
Version 1.0.3.9: Manual switching between the power plans is now also possible by simply clicking on the system notification icon.