GrapeRDP is a client software that implements Microsoft's Remote Desktop Protocol, allowing users to remotely access their devices.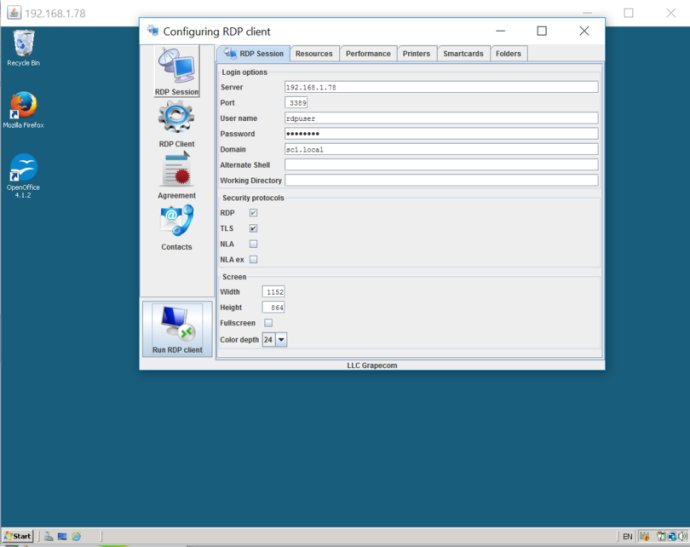 If you're looking for a reliable and versatile Java RDP client, GrapeRDP might be the right choice for you. This software allows you to connect to another computer over a network connection and works on various operating systems, including Linux, Windows, Mac, and others that support Java.

One of the key features of GrapeRDP is its ability to connect to a terminal server with ease. Additionally, this client offers automatic login and password support, which can help streamline your workflow. You'll also appreciate that GrapeRDP supports different resolutions and color depths, as well as various code pages, for maximum compatibility.

GrapeRDP provides other helpful features, like the ability to type and layout keyboard, use an alternate shell, set a working directory, and redirect sound. You can also redirect the clipboard, local or net printers, smartcards, and the file system. Additionally, GrapeRDP supports fullscreen mode and dynamic channels.

Another noteworthy feature is the support for audio input redirection, which means you can use your microphone to communicate with the remote computer. Lastly, GrapeRDP supports several security protocols like RDP, SSL, NLA, and NLA-EX for secure connections.

Overall, GrapeRDP is a powerful and reliable RDP client that can help you connect and work remotely with ease.
What's New
Version 0.15: correct cursor
Version 0.14: Java Web Start support
Version 0.13: add visual configurator
Version 0.12: add visual configurator