iFunia DVD Creator for Mac is a versatile software that allows users to burn videos to a DVD disc. With features like video editing, personalized menu creation, and fast burning speed, it ensures a seamless DVD playback experience on standard DVD players.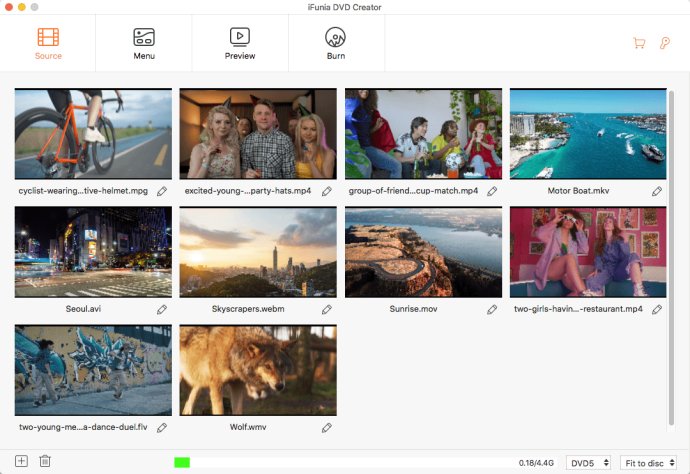 iFunia DVD Creator for Mac is an exceptional software that allows users to effortlessly create a playable DVD from various video files with just a few simple steps. With this powerful DVD creator, users can create DVD-5 or DVD-9 discs at high speed or generate DVD folders and ISO files for burning later.

One of the standout features of iFunia DVD Creator for Mac is the ability to edit videos directly within the program. Users can take advantage of the built-in video editor to trim, crop, add watermarks, subtitles, chapters, and much more. This handy tool provides users with the flexibility to customize their videos to their preferred specifications.

To enhance the overall DVD viewing experience, iFunia DVD Creator for Mac also offers over 50 free menu templates categorized under different themes. Users can effortlessly create a professional-looking DVD menu by selecting one of these templates or customizing it further by changing the background image, music, title, menu buttons, and other elements according to their preference.

Furthermore, the software enables users to preview the DVD project with real-time effects before initiating the burning process. This allows users to ensure that the final product meets their expectations and make any necessary adjustments if required.

In terms of output options, iFunia DVD Creator for Mac supports the creation of DVDs, DVD folders, and ISO images, providing users with multiple possibilities for their projects. Moreover, users can save their unfinished DVD project and resume their work at a later time, ensuring that no progress is lost.

The latest update of iFunia DVD Creator for Mac brings noticeable improvements to the user interface, making it even more intuitive and user-friendly. Additionally, the program has been optimized, resulting in enhanced performance and smoother operation.

Overall, iFunia DVD Creator for Mac is an exceptional software solution that offers a wide range of features and functionalities to help users create high-quality DVDs effortlessly. With its user-friendly interface, powerful editing capabilities, versatile menu templates, and innovative options, this software is sure to enhance the DVD creation process.
What's New
Version 2.0.0: Released with a new interface and improved features.
Version 5.0.0: Improved interface.