ImTOO DVD to iPad Converter for Mac facilitates DVD movie conversion to iPad-compatible formats such as H.264 HD Video, MPEG-4, and MP4. Additionally, it supports conversion of DVD soundtracks to MP3, AAC or M4A formats for use on the iPad.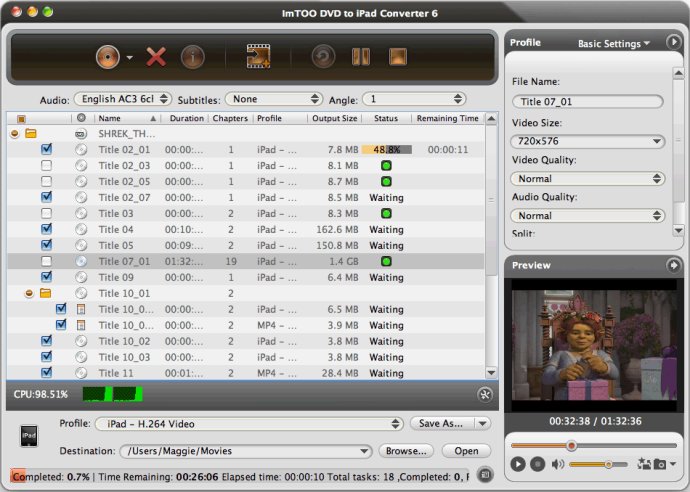 The ImTOO DVD to iPad Converter for Mac is an essential tool for those who love to watch DVD movies on their iPad. This software allows you to convert your DVD movies to various formats such as H.264 HD videos, MPEG-4, MP4 or H.264, making them playable on your iPad.

One of the main features of this software is the ability to extract soundtracks from your DVD movies and convert them into iPad music files of MP3, AAC or M4A formats. With this, you can enjoy your favorite movie soundtracks on your iPad and create your own playlists.

ImTOO DVD to iPad Converter also offers multiple output formats for one original file, allowing you to get the same files in different formats at the same time. It also boasts the highest DVD to iPad conversion speed possible, making the conversion process fast and efficient.

You can rip multiple files at the same time in multi-threading mode and use the Bitrate Calculator tool to get the desired output file size. You can also pick any DVD movie clip for ripping to iPad video or music and split a DVD title into several parts according to your specified split mode.

The software also includes a resizable player that allows you to preview movies and take snapshots anytime during preview. The ImTOO DVD to iPad Converter for Mac comes in English, French, German, Japanese, Spanish, and Chinese language interfaces, making it accessible to users around the world. Overall, it is a great software to have if you want to enjoy high-quality DVD movies on your iPad.
What's New
Version 7.7.3.20140228: Support iOS 7.Support iTunes 11.1.Support iPhone 5s.Support iPhone 5c.