iWatermark is a versatile watermarking app that caters to professionals and individuals alike, available on iPhone/iPad, Mac, Android, and Windows. With its robust features and popularity, it's the go-to software for watermarking photos.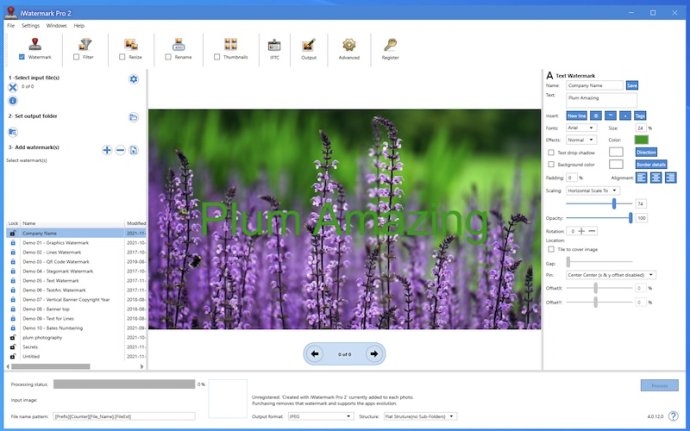 iWatermark Pro 2 for Windows is a powerful and professional watermarking tool designed specifically for photographers. This app allows you to easily protect your photos from copyright infringement and claim ownership of your intellectual property.

What sets iWatermark apart from other watermarking tools is its availability on multiple platforms. iWatermark is the only watermarking tool available for all four major platforms, including iPhone/iPad, Mac, Android, and Windows. Additionally, iWatermark is the most popular multi-platform professional watermarking tool for photos.

With iWatermark Pro 2, you can add a text, graphic, signature, or QR watermark to your photos. This visible watermark indicates that the photo was created and owned by you, and deters others from using it without permission.

The app is designed exclusively for watermarking by a photographer for photographers, and includes a variety of features to make the process seamless. You can work with Lightroom, Photoshop, Affinity Photo, and other photo organizers, and batch process or individually watermark your photos. iWatermark also supports input/output to all major file types, including JPEG, TIFF, PNG, RAW, and more.

You can customize your watermarks by creating text, graphic, QR, lines, metadata, steganographic, and other watermarks. Adjust the opacity, font, color, border, scale, rotation, shadow, and special effects, and choose from visible or invisible watermarks. You can even use metadata, such as GPS, Exif, and XMP, in your watermarks to add more detailed information.

In addition, iWatermark allows you to design, edit, and manage a library of watermarks, and supports fast 64-bit multi-threaded multiple CPU/GPU's. You can also add, remove, and edit metadata (EXIF, GPS, and XMP) and use EXIF/IPTC/GPS data in the Text Watermark as tags to use the metadata in watermarks.

The app comes with a great manual and support, and features a modern Windows 10 & 11 design.

Watermarking your photos is important for several reasons. By digitally signing your photos/artwork with iWatermark, you can claim, secure, and maintain your intellectual property and reputation. Adding your name, email, or URL to your watermark creates a visible and legal connection to you and your work. Watermarking your photos with your company logo helps you build your company brand. Finally, watermarking your photos can help you avoid the surprise of seeing your photos and/or artwork elsewhere on the web or in an ad, and can also help you avoid intellectual property (IP) squabbles.

Overall, iWatermark Pro 2 for Windows is an excellent choice for photographers who want to protect their photos and maintain ownership of their intellectual property.
What's New
Version 4.0.27: - Update to ImageMagick library from Q8-x64 bit to Q8-AnyCPU.
- Optimized size of installer package. Smaller and faster.
- Now handles low and high DPI images
- now available on MS Windows Store
Version 4.0.24: - a number of operations are optimized. meaning noticeably faster and more memory efficient. watermarking is faster.
- WebP graphic format added for import and export of watermarked photos.
- many small changes to user interface (ui) making usage clearer.
- now available on MS Windows Store