jPDFAssemble is a Java-based PDF assembly software that enables users to combine, merge or split PDF documents, in addition to offering the ability to add or manipulate bookmarks within PDF files.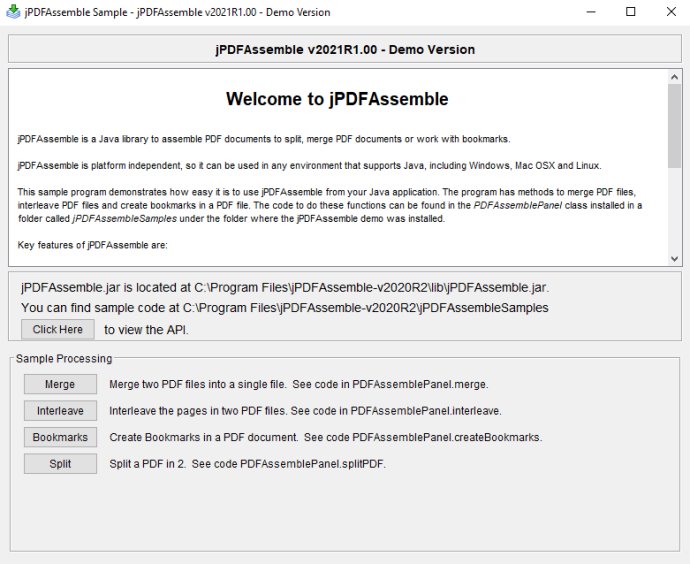 If you are searching for a powerful and reliable software for assembling PDF files, then you should try jPDFAssemble. This Java library is designed to combine, merge, or split PDF documents with ease. Moreover, it also allows you to add or manipulate bookmarks in PDF documents.
One of the greatest advantages of jPDFAssemble is its ability to save resulting documents directly to a client browser without any temporary files when working within a J2EE server. This feature not only saves your time but also makes the process more efficient.
jPDFAssemble is built on top of Qoppa's proprietary PDF technology. Therefore, you do not have to install any third-party software or drivers. Since it is written in Java, it allows your application to remain platform independent and run on Windows, Linux, Unix (Solaris, HP UX, IBM AIX), Mac OS X, and any other platform that supports the Java runtime environment.
The software offers a range of features, including split PDF documents, merge PDF documents, create and edit bookmarks/outlines, update document metadata information, and save to the local file system or to Java output streams.
In conclusion, jPDFAssemble is a user-friendly, feature-packed software that is perfect for those who are searching for an efficient and reliable solution for PDF file assembly. If you require any additional information, don't hesitate to contact the company through email at
[email protected]
.
What's New
Version 2021R1: Java 9 Support
Rich Text and Non-Latin Unicode Support in Form Fields