jPDFSecure is a Java library that allows digital signing and security settings modification for PDF documents. Enables encryption, password protection, and digital signature creation and application from within your application or java applet.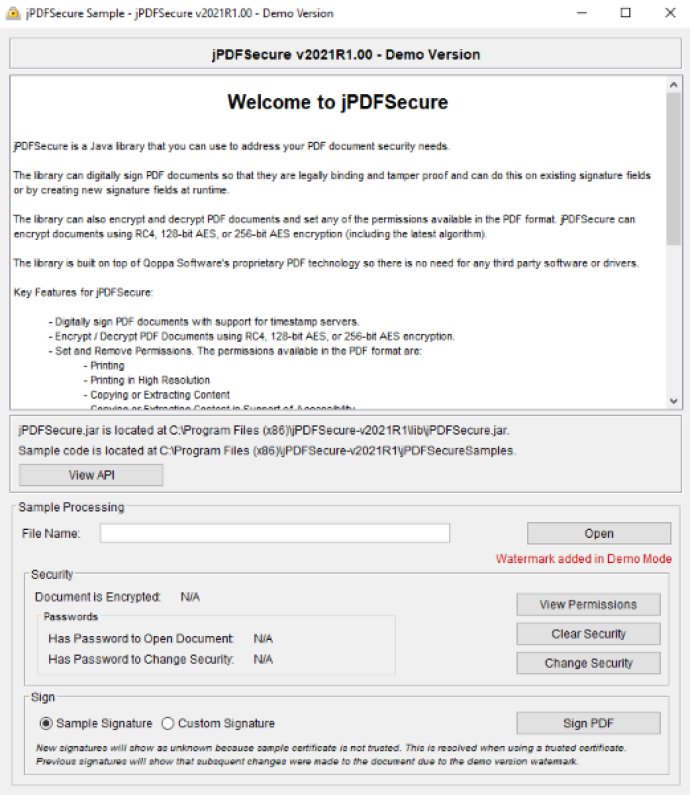 If you are looking for a reliable Java library to sign and secure your PDF documents, look no further than jPDFSecure. With this software, you can easily change the security settings on your PDF files, set up permissions and passwords, and even create and apply digital signatures.
One of the most impressive features of jPDFSecure is its user-friendly interface. You can load your PDF documents from a wide range of sources, including files, network drives, and URLs. You can even generate input streams, which can come directly from a database.
Once you have made the necessary changes to your security settings, jPDFSecure makes it easy to save your documents. You can save your files directly to a file, a java.io.OutputStream, or a javax.servlet.ServletOutputStream, allowing you to output your files directly to a browser.
One of the biggest advantages of jPDFSecure is that it is built on top of Qoppa's proprietary PDF technology, so you don't need to install any third-party software or drivers. Plus, since it is written in Java, it remains platform independent and can run on a wide range of operating systems, including Windows, Linux, Unix (Solaris, HP UX, IBM AIX), Mac OS X, and more.
Some of the main features of jPDFSecure include the ability to digitally sign PDF documents, apply certifying signatures, encrypt and decrypt PDF documents (with AES 256 encryption), and set or remove permissions and passwords. Additionally, you can customize your signature appearance and sign from a USB token (PKCS11).
Overall, jPDFSecure is an excellent tool for anyone who needs to sign and secure PDF documents. If you have any questions or need further information, don't hesitate to contact the team at
[email protected]
.
What's New
Version 2021R1: Java 9 Support
Rich Text and Non-Latin Unicode Support in Form Fields