KernSafe iStorage Server is a highly advanced iSCSI Target Server software, available in both free and commercial versions for Windows platform. It offers a host of advanced features, making it a powerful option for users.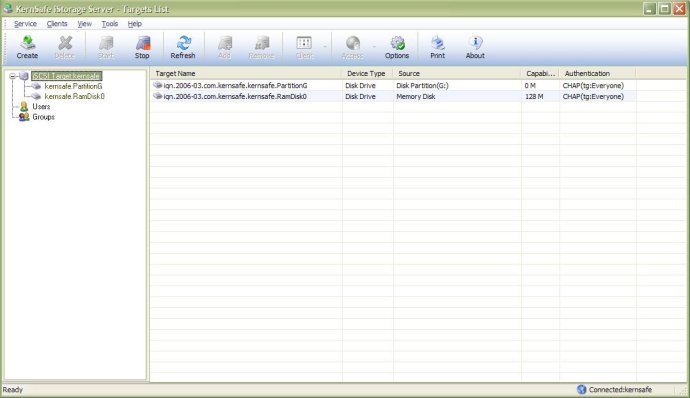 KernSafe iStorage Server is a remarkable software-only iSCSI Target Server, available for Microsoft Windows in both commercial and free versions. It serves as an IP SAN solution, allowing users to export an existing storage like physical disk, generic SCSI device, partition, CD/DVD-ROM, and even a variety of popular CD/DVD images. iStorage Server lets you consolidate, virtualize and centrally manage all your data, including photos, games, software, movies, and the likes. With this software, all clients who logon the target will have immediate access to your data without any further actions needed.

This iStorage Server is an excellent choice for businesses of any size. Besides providing RAID-1 feature, which allows the creation of two image files for mirror backup, image files can be local image files, or remote iSCSI devices. Even if you are a personal user, KernSafe iStorage Server can help share data between your workstation and laptop computer, making your data sharing experience more convenient. As such, the free version of iStorage Server is sufficient for this situation.

KernSafe iStorage Server is hardware-independent. You do not need any additional hardware. It takes the space of a windows file system and creates an iSCSI target. You can now allow any computer on an Ethernet network to use this iSCSI storage. It is a cost-effective and scalable solution. You can use any of the following three solutions for your business or home:

1. All clients share one disk/CD/DVD images with read-only mode.
2. All clients share one physical disk, partition, CD/DVD-ROM with read-only mode, and one client can run at read-write mode.
3. All clients can use their images, and iStorage Server will create individual images for each client, which can be encrypted by CHAP secret.

In summary, KernSafe iStorage Server offers a powerful and advanced IP SAN solution for Windows users that helps users manage their data efficiently. It is affordable, scalable, hardware-independent, and easy to use, making it an ideal choice for businesses and personal users.
What's New
Version 1.38: Add native x64 version; Add Mirror (Raid 1) Device Support; Add Generaic SCSI Device Support