Email Verifier Professional swiftly validates email addresses, removing invalid, non-existent, and duplicated emails. It caters to individuals with personal mailing lists, enabling them to keep their lists current with ease.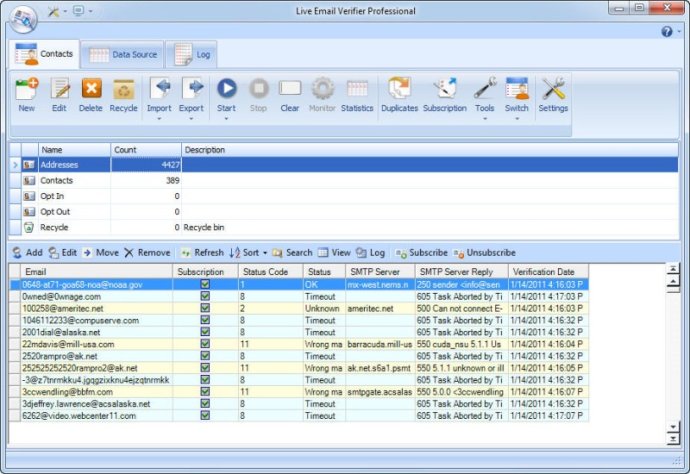 Email Verifier Professional is an exceptional software that quickly and easily validates email addresses. With its advanced technology, Email Verifier eliminates all invalid, not existed and duplicate emails, allowing users to determine up to 90% of "dead" email addresses.

Designed for users who have their own mailing lists and want to keep them up-to-date, Email Verifier validates every email address from a selected database or text file. The software supports all popular file formats and has the ability to validate up to 50,000 email addresses per hour.

Email Verifier Professional offers powerful contact list management features that allow users to import email addresses from Microsoft Outlook, Windows Address Book, Excel, CSV, and Text files. In addition, users can also import email addresses from external sources through ODBC/OLEDB, such as Access, MS SQL, Oracle, MySQL, Dbase, Foxpro, and Paradox.

With Email Verifier, users can also export their contact lists to Excel, Text, and external sources through ODBC/OLEDB. The software offers detailed logs for every operation, providing users with complete transparency and control over their email verification process.

The software's powerful contact list operations include removing duplicate email addresses, extracting email addresses from specified domains, merging lists, removing addresses contained in the second list from the first list, finding addresses contained in both lists, splitting the list, moving/removing unsubscribed recipients, moving/removing bad email addresses, and moving/removing email addresses with specified status.

Email Verifier Professional has a robust multi-threaded engine that connects directly to the SMTP server of the recipient and validates the email address without sending any actual mail. This feature ensures fast and accurate email verification results.

Overall, Email Verifier Professional is the ideal solution for users who want to maintain an accurate and up-to-date mailing list. Its efficient and powerful validation features, multi-threaded engine, and advanced contact list operations make it a must-have software for any email marketer or business that relies on email communication. Keywords: verify email address, verify email, email verification, valid email address, email verifier, validate email address, email validation.
What's New
Version 6.3: N/A