Macvendors.co Lookup is a software tool that helps you acquire technical information about your machine. It eliminates the need for manual attempts and enables you to stay updated with all relevant data promptly.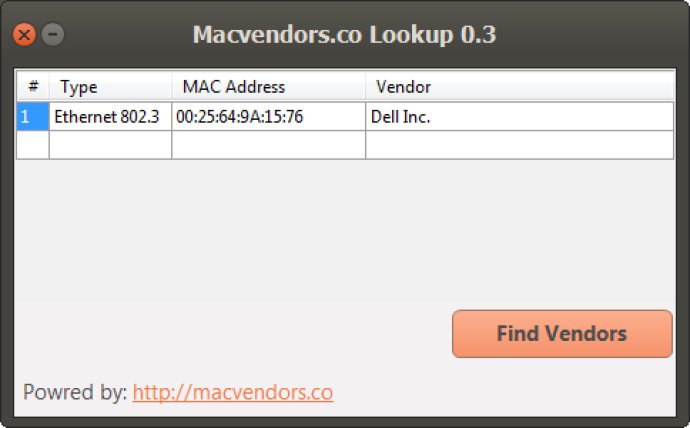 If you're a Windows user, keeping your machine running smoothly often involves running maintenance tests and staying on top of technical information. Rather than tackling these tasks manually, there are third-party programs available that can help you get results faster and more efficiently. One such tool is Macvendors.co Lookup.

This lightweight program features a minimalistic user interface that offers straightforward controls and intuitive operation. There are no configuration menus or panes to navigate, making it very simple to use. However, there is no built-in help documentation provided.

When you run Macvendors.co Lookup, the program automatically scans your system for Network Interface Cards (NICs) and displays their MAC addresses in a list. You can then use the app's only interactive function - its Find Vendors button - to identify the vendor for any given NIC. The main window is divided into two sections, one showing MAC addresses and the other displaying vendor names after the lookup process.

One of the standout features of Macvendors.co Lookup is its lightweight design, which means it won't hog resources or slow down your computer. Additionally, the program's ease of use makes it accessible to a wide range of users, regardless of their technical expertise.

Overall, Macvendors.co Lookup is a handy, lightweight tool that provides an easy way to view all the NICs on your system and identify their vendors. With its simple interface and straightforward functions, it's a useful addition to any Windows maintenance toolkit.
What's New
Version 0.4: Added : Detect USB Network Adapter
Fixed : Fall back to on-chip manufacturer (Fake Mac address!)
Fixed : Minor bugs