Metamorphosec English Word Scramble is a Windows software that helps users learn English through unscrambling letters to form words. With two modes, Training and Test, it offers access to over 600 vocabularies for practice and assessment.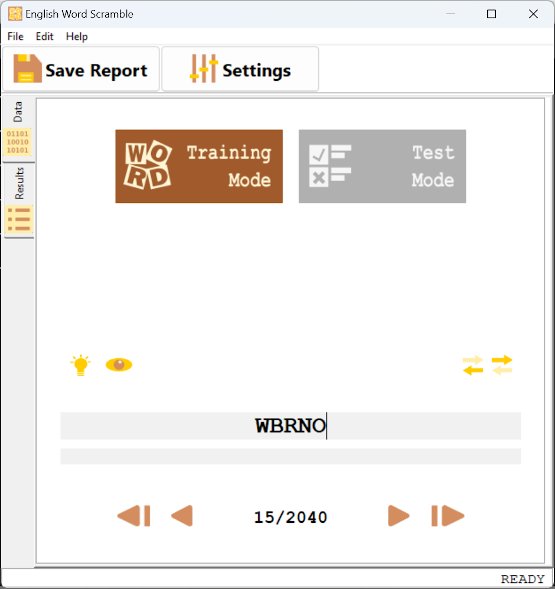 I recently had the opportunity to try out Metamorphosec English Word Scramble, a fantastic software tool that is specifically designed to help users master English vocabulary. This program is compatible with Windows, making it accessible to a wide range of users.

What sets Metamorphosec English Word Scramble apart from other language learning tools is its two engaging modes of play: Training Mode and Test Mode. In Training Mode, users have access to an extensive collection of over 600 vocabularies, allowing them to practice and enhance their word forming skills. Test Mode, on the other hand, challenges users by presenting them with thought-provoking word puzzles.

One of the great features of this software is the ability to customize the level of difficulty. Users are able to set their own Passing Grade, ensuring that they are continually pushed to improve. Additionally, the option to change the font case adds an extra layer of challenge to the experience.

However, it is worth noting that the UNREGISTERED Version of Metamorphosec English Word Scramble does have its limitations. It is restricted to personal use only, limiting the scope of its application. Moreover, users are only able to save files to the Saved Documents folder on the desktop. In addition, the program imposes restrictions on the vocabularies, limiting them to a maximum of 100 words that are no longer than 7 characters. Furthermore, the Settings feature is disabled.

To fully unlock the potential of Metamorphosec English Word Scramble, it is essential to purchase a license key. By obtaining a licensed version, users can enjoy unrestricted access to all the features of the program. They will have the freedom to access an unlimited number of vocabularies, save files anywhere on their computer, and customize settings to suit their preferences.

Overall, I highly recommend Metamorphosec English Word Scramble to anyone looking to expand their English vocabulary. With its user-friendly interface and engaging gameplay modes, this software is an invaluable tool for language learning and improvement.
What's New
Version 3.0.0: https://metamorphosec.com/Files/Changelog/changelog_metwscr.txt
Version 2.0.0: https://metamorphosec.com/Files/Changelog/changelog_metwscr.txt
Version 1.0.0: https://metamorphosec.com/Files/Changelog/changelog_metwscr.txt