Metamorphosec German Word Scramble is a Windows tool for learning German by rearranging scrambled letters into meaningful words. It has two modes, Training and Test, and offers over 1400 vocabulary words.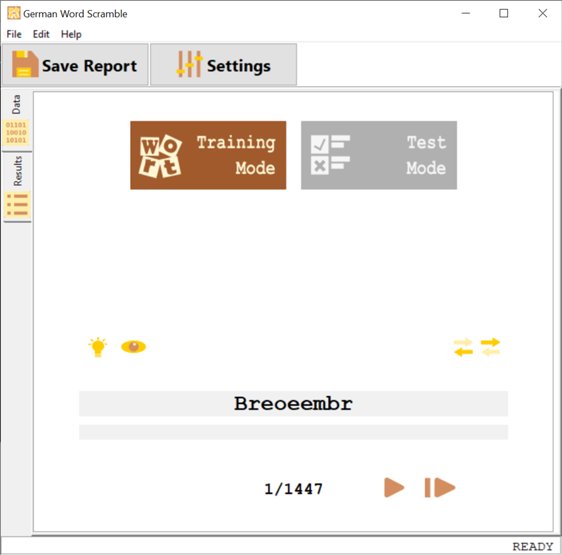 If you are looking for an effective tool to learn German, Metamorphosec German Word Scramble is the perfect software for you. Specifically designed for Windows, this software allows you to rearrange scrambled letters to form meaningful words, helping you improve your German vocabulary effectively.

One of the best things about Metamorphosec German Word Scramble is the fact that it supports two different modes of play: Training Mode and Test Mode. In Training Mode, you can train yourself using over 1400 vocabularies to help you become more proficient in German. Once you feel confident enough, you can then challenge yourself in Test Mode.

To make the experience even more challenging, you can adjust the Passing Grade to a higher level and change the font case to either Upper Case, Lower Case or Title Case. This feature allows you to customize the game to meet your specific learning needs and preferences.

However, it is worth noting that the UNREGISTERED Version comes with certain limitations. For instance, it is only available for personal use and questions are limited to 100 words in Training Mode and 10 words in Test Mode. Additionally, the software only allows you to save files in the Saved Documents folder on the desktop, and the maximum word length is 7 characters long. Furthermore, the Settings option is disabled unless you upgrade to the full version.

Overall, Metamorphosec German Word Scramble is a great software for anyone looking to improve their German skills quickly and effectively. With its unique features and user-friendly interface, this software provides a fun and engaging way to learn German.
What's New
Version 1.0.0: https://metamorphosec.com/Files/Changelog/changelog_metgscr.txt