Convert unprotected DVDs to MPEG-4 or MP4 format in 3 easy steps with the DVD to MP4 converter. Compatible with various mobile devices, it is a powerful and user-friendly tool for effortless DVD-to-MP4 conversion.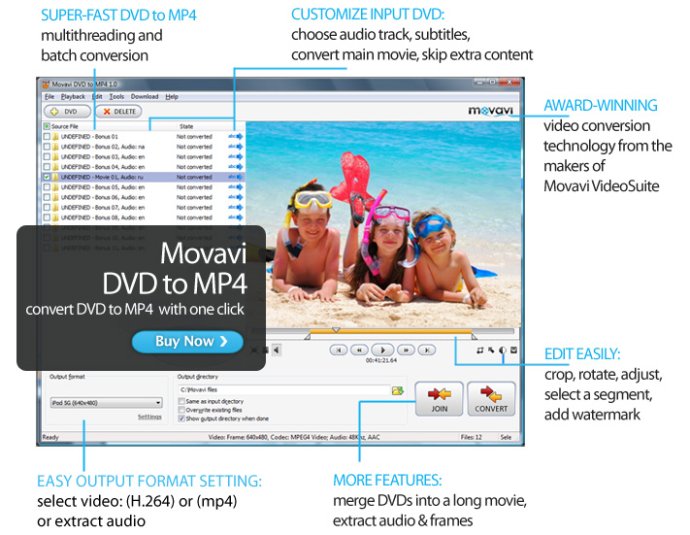 If you're someone who loves watching movies on the go, then you'll definitely want to check out DVD to MP4 converter. This software is a powerful video application that enables you to rip your DVDs to MP4 format for different mobile devices. Now you can easily convert any of your favorite DVDs into MP4 format at blazing speeds!

With DVD to MP4 converter, you can use it as a DVD Ripper and save your unprotected DVDs to watch on mobile video devices. The process is simple: just add your DVD, select the preferred language and subtitles, choose a ready-made preset, and then save your video. It's easy, quick, and efficient.

Not only that, but you can also join multiple parts of your DVDs into one large movie. This is great for those who want to watch an entire season of a TV show, for example. In addition, you can extract audio tracks and save them in the MP3 format. This feature is perfect for those who love the soundtrack of a movie or want to listen to an audiobook on their mobile device.

Want to select and save a specific segment of your DVD? No problem! DVD to MP4 converter allows you to do just that. And if you need to optimize your videos, it comes with powerful editing tools that let you cut, merge, crop, rotate, adjust, and even add a watermark to your videos.

Overall, DVD to MP4 converter is a great software for anyone who wants to take their DVD collection on the go. It's easy to use, and it comes with a ton of features that will make your life easier. So if you're looking for a reliable DVD to MP4 converter, look no further than this amazing software.
What's New
Version 1.0.0.1: Minor bugs fixed