NK2Edit is a versatile software that allows users to effortlessly edit and manage Microsoft Outlook's AutoComplete file. With a range of features such as record appending, deletion, field modification, file repair, and merging, users can perform their desired tasks efficiently.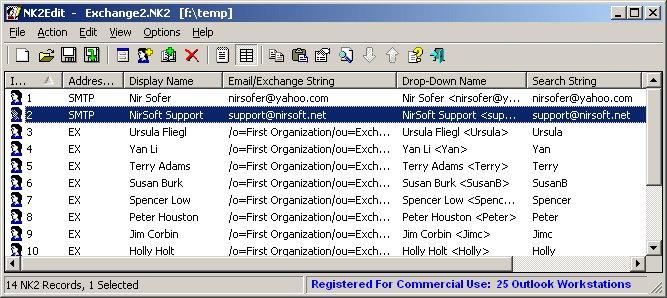 I recently had the opportunity to try out NK2Edit, a software designed to enhance the AutoComplete feature in MS-Outlook. As a regular user of MS-Outlook, I have come to rely on AutoComplete for its convenience in suggesting email addresses and user names right in the message window. However, I was disappointed to discover that MS-Outlook does not provide a way to edit or modify the values in the AutoComplete list.

This is where NK2Edit came to the rescue. It offers a solution to easily modify all fields in the NK2 file, allowing me to fix errors or outdated information in the AutoComplete list. Not only that, but I was pleased to find that I could also delete unwanted records or add new ones, giving me full control over my AutoComplete list.

One feature that really impressed me was the ability to fix corrupted NK2 files. In the past, I had lost valuable AutoComplete data due to file corruption, but with NK2Edit, I was able to repair those files and retrieve the lost information. This saved me a lot of time and frustration.

Another great feature of NK2Edit is the ability to merge two or more NK2 files. This came in handy when I wanted to combine my AutoComplete lists from different computers or accounts, creating a comprehensive and personalized list that I could use anywhere.

Overall, I found NK2Edit to be a valuable tool for experienced MS-Outlook users like myself. It provides the editing abilities that MS-Outlook lacks, allowing me to fully customize my AutoComplete experience. Whether you want to modify, delete, add, or fix your AutoComplete list, NK2Edit has got you covered. I highly recommend giving it a try if you want to make the most out of your AutoComplete feature and enhance your overall email usage experience.
What's New
Version 3.46: N/A
Version 3.45: N/A