PUB Viewer Pro is an essential application for Windows users who want to read, convert, and edit Microsoft Office Publisher files without the need for MS Publisher software. With this software, you can modify text boxes, add images, and insert text.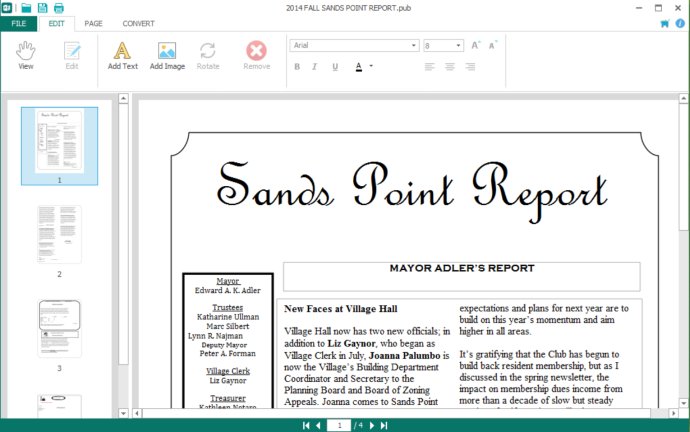 I had the opportunity to review the PUB Viewer Pro software, and I must say, it has exceeded my expectations. With this software, you can indulge in various tasks that can make your PUB document editing process easy and feasible.

One of the features that makes this software stand out is its readability. With the PUB Viewer Pro, you can easily read each document page with high accuracy. The original format and layout of the document can be kept successfully, and you can easily navigate through the pages of the document.

Another aspect that impressed me was the ease of editing of the documents. The software supports text and image editing, allowing you to insert text, images, and even create rich text boxes. You can easily change the font and color of the text.

The PUB Viewer Pro software also allows you to save documents as PUBX(.pubx) document, an excellent file format that can be reopened by the app on Windows, Mac OS X, iPad, and iPhone. This feature ensures that you can reuse your saved document in the future.

Rotating text and image is also made easy with the PUB Viewer Pro software. You can easily rotate both text and image to fit your document needs. Additionally, the software supports exporting of many kinds of image, Adobe PDF, Microsoft Word and PowerPoint, allowing you to reuse them as you wish.

The software supports the reordering of Microsoft Office Publisher, and you can also insert a new page. Printing of documents is also straightforward, allowing you to easily print your PUB file using your printer.

Overall, the PUB Viewer Pro software is a game-changer when it comes to PUB document editing, and I highly recommend it for anyone who wants to take their PUB document editing experience to the next level.
What's New
Version 2.1.1: N/A