This software enables running SQL queries through any ODBC data source, supporting applications ranging from DOS apps to batch files. The results can be outputted to the screen, ascii file, or DBF table. Compatible with various databases such as Access, MySql, Oracle and Informix.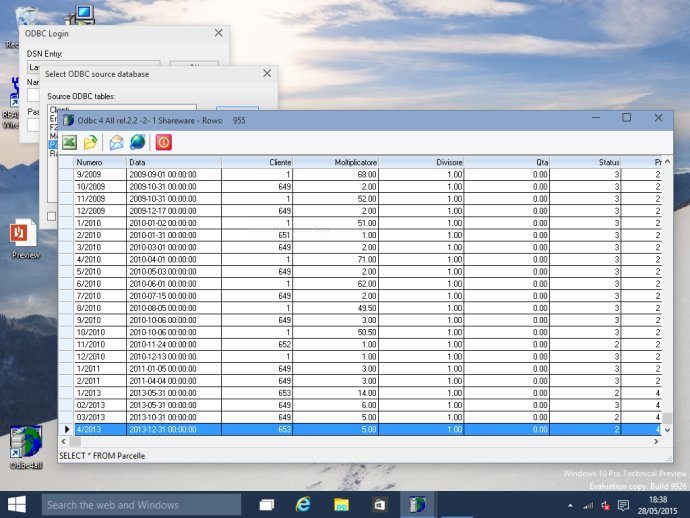 ODBC 4 ALL is a highly useful software utility for Windows 32-bit systems that offers extensive support for accessing different ODBC data sources like Oracle, SQL Server, Access, Informix, and MySql to name a few. With this software, it is possible to redirect the output of SQL queries to an ASCII file, screen, or DBF table easily, making it versatile for various applications including batch files and DOS apps.

In interactive mode, selecting the ODBC Data Source and Table, and inserting the SQL command to be sent to the database server is effortless. If the SQL command happens to be a SELECT query, the results can be automatically displayed on a screen grid. This grid permits users to browse the data, print it out, or send it to an Excel spreadsheet in no time.

Batch mode is highly convenient when using the software within a third-party application. It is possible to create an ASCII file manually or let the screen grid create it automatically. Once created, run ODBC4ALL.EXE to obtain the desired output format. In this mode, user intervention is not required. Even error messages can be redirected to an ASCII file.

The best feature of ASCII tables is that they are automatically printable, making it even more convenient for users to access the data. With Printfil, the Windows Printing System for Applications software or FileInMail, the program that lets users send data vie email, ASCII tables are highly useful when users need data to be printable without any hassles.

The two modes can be mixed to provide users with the best of both worlds. For example, running the software in interactive mode could create an ASCII output file, while running it from within the application shows the results of the query automatically to the user. In conclusion, ODBC 4 ALL is an excellent software utility that users can take advantage of to access different ODBC data sources like never before.
What's New
Version 2.4: 1. Added compatibility with the newest Windows Operating Systems: Windows 11 and Windows Server 2022;
2. Some 64-bit systems could show the message "You must create a ODBC DNS configuration from your control panel" even though the DSNs were already configured. Fixed;
3. Other minor improvements;