Outlook Import Wizard is a fast and easy-to-use software that efficiently imports .EML and .MSG files to MS Outlook. The application preserves the original folder structure and attachments while importing e-mails, offering an effortless import experience.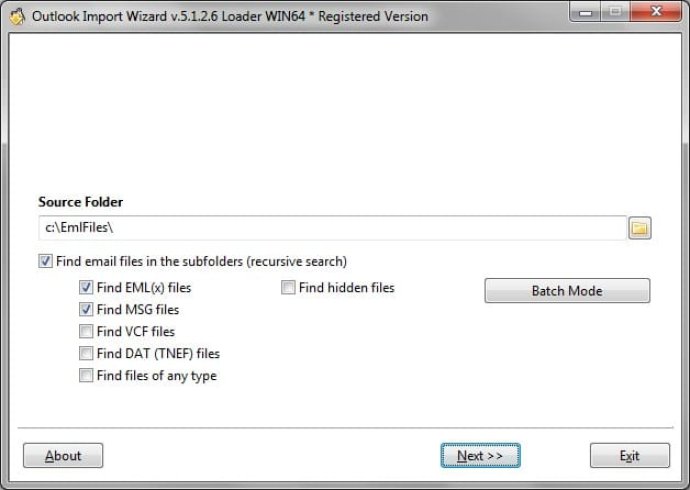 Outlook Import Wizard is a reliable and efficient software that provides a hassle-free way of importing .EML and .MSG files into MS Outlook. It is an ideal solution for those who are looking to switch to the popular personal information manager from Microsoft. This application allows users to import not only messages but also the attached files, ensuring that no critical data is lost during the transition.

One of the key features of Outlook Import Wizard is its ability to prevent duplicate messages. The software creates a new subfolder for each importing session with a timestamp to protect previous session messages from accidental overwriting. Moreover, the tool can preserve the original file system folder structure while importing emails, making it convenient for users to organize their data.

Outlook Import Wizard also supports Unicode, ensuring that messages and folder names are displayed correctly, and message dates remain unchanged. The software can be downloaded from the official website and is a perfect choice for importing a large number of files due to its high performance.

Additionally, users can import separate .EML and .MSG files to the newly created or selected Outlook folder, enabling them to browse and choose files to be moved to the Outlook Personal Folder (PST). The software takes the utmost care of the user's security, as it doesn't interfere with antivirus scanning. This means that messages can be scanned for viruses, and the system remains protected.

In conclusion, Outlook Import Wizard is an effective and flexible solution for those who want to import their emails into MS Outlook quickly and easily, without losing any important data. It offers various features such as preventing duplicate messages, preserving folder structure, Unicode support, and high performance, making it a perfect choice for personal and professional use.
What's New
Version 5.5.3: Total code revision. Some minor bugs were removed to work better on unsupported OS such as 2008 R2 Server.