Paragon CD-ROM Emulator allows users to work with multiple CD/DVD-based applications simultaneously, with access to up to 23 virtual drives. It also allows for the creation of ISO9660 compatible images for increased functionality.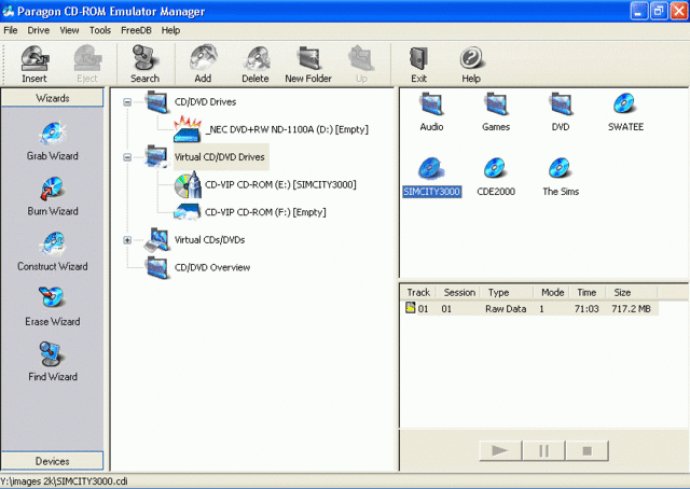 CD-ROM Emulator is a software that provides users with a utility for creating and managing virtual CD drives and CD/DVD discs. These virtual CD drives exhibit significant advantages over physical ones since they work with hard disk performance that is ten times faster. You can rely on them to be faster, more reliable, and convenient. They are silent, consume no power, and don't require any time for CD swapping and speeding-up. Virtual CDs operate as files saved on your hard disk, which means there's no chance of losing them, no dust, no scratches or rifts, and no need to search for the desired CD title.

You can use CD-ROM Emulator to create up to 23 virtual CD drives thanks to the original emulation technology. Virtual devices are treated as usual physical CD drives by every application and operating system. This means that with so many virtual CD drives, you can work with several CD-based applications simultaneously, such as encyclopedias, maps, games, dictionaries, translators, and even listen to your favorite music. The virtual CDs you use in CD-ROM Emulator are image files of real CDs and DVDs.

The program's network version comes with additional features such as every CD image can be shared by many users simultaneously, the centralized CD Image Database provides centralized control for all CD images in the network. Additionally, as soon as CD Image is created on the network server, it becomes accessible for all clients with installed CD Emulator. You can access Administrator settings to apply restrictions of functions accessible by client. Furthermore, there's a special "silent" mode for installation, which allows installing CD Emulator over the network using a batch file or Windows Logon Scripts.

Overall, CD-ROM Emulator is an exemplary software that provides users with unmatched benefits from virtual CD drives. It's a reliable and convenient tool for managing virtual CD drives and CD/DVD discs. The program's network version adds to its comprehensive features, making it an ideal tool for offices and organizations.
What's New
Version 3.0: Full support of Windows XP; Administrator settings; centralized CD Image Database; multiuser access to one CD