Decrypt Adobe Acrobat PDF files easily and remove restrictions on printing, editing, and copying with our fast and efficient software. Save time and start accessing protected PDFs today.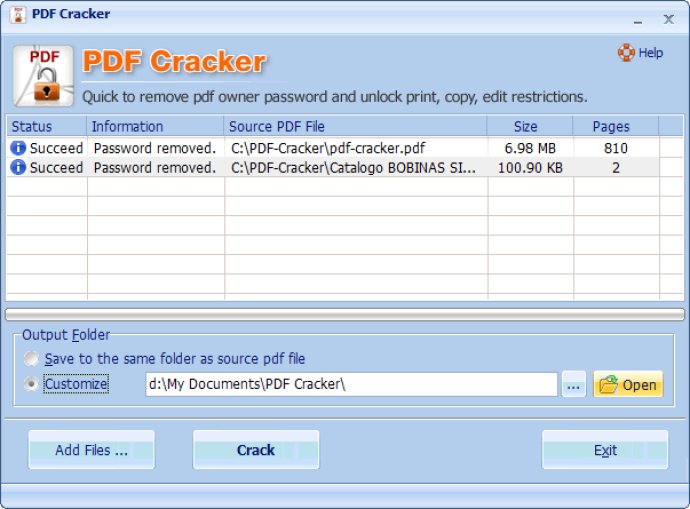 PDF Cracker is a software designed to remove passwords and restrictions (Owner Password) from PDF files. With this powerful tool, it is easy to copy, edit or print the decrypted PDF files without any restrictions. Decrypted files can be opened in any PDF viewer like Adobe Acrobat Reader, enabling all the print, copy and edit functions.

PDF Cracker supports all versions of Adobe Acrobat and does not rely on any third-party software like Adobe Acrobat or Reader. This encryption tool comes with several benefits and features that make it a compelling choice for PDF users. Some of its features include:

-Compatibility with Windows 10/8/7/Vista/XP (Support 32bit & 64bit)
-Instant removal of security settings from encrypted PDF files
-Support for PDF1.8 format (formerly only supported by Acrobat 9.0 application)
-Support for PDF1.8 (Acrobat 9.x) files, including 40-bit RC4 decryption, 128-bit RC4 decryption, AES decryption, compressed files, and unencrypted metadata.
-Decryption of protected Adobe Acrobat PDF files, removing restrictions on printing, editing, and copying
-Drag and drop functionality for easy use
-Full install/uninstall support

PDF Cracker is an essential tool for anyone looking to gain unrestricted access to their PDF files. It provides an elegant solution for copying, editing and printing PDFs once the restrictions have been removed. Its intuitive drag-and-drop interface makes it easy to use, and its full-install/uninstall support ensures that it is easy to manage. All in all, PDF Cracker is a must-have tool for PDF users who want to unlock the full potential of their files.
What's New
Version 3.10: Improved anti-tampering mechanism.