PostgreSQL Data Wizard simplifies PostgreSQL data management on Windows with user-friendly wizards. It streamlines data manipulation tasks for a seamless experience.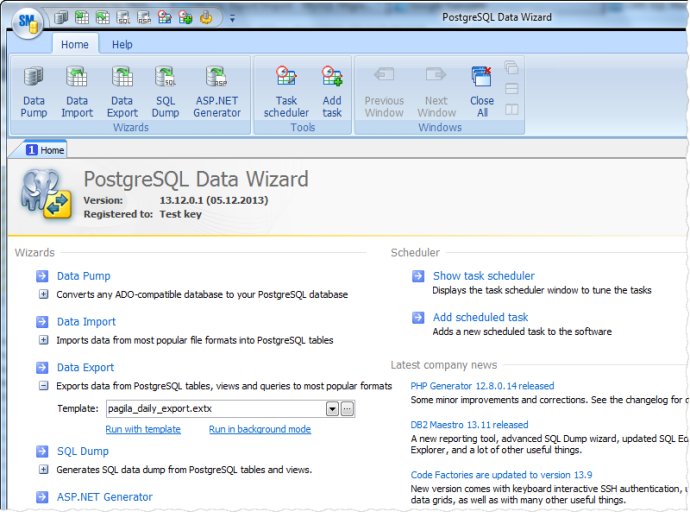 PostgreSQL Data Wizard is a powerful Windows GUI utility that provides an efficient solution for users to manage their PostgreSQL data. It comprises four primary modules that elevate the user experience: Data Pump, Data Import, Data Export, and ASP.NET Generator.

The Data Pump module facilitates the transfer of schema and data from any ADO-compatible database to PostgreSQL. It migrates source objects to the target database or generates SQL scripts, ensuring the smooth transfer of tables, indexes, and foreign key constraints.

The Data Import module includes a graphical builder that simplifies importing data from various formats such as Excel, Access, CSV, DBF, XML, and ODBC data sources to PostgreSQL tables. Bulk loading commands expedite the import process, and users can customize their data formats, execute custom SQL scripts and empty target tables.

The Data Export module expedites the exporting of data from PostgreSQL tables, views, and queries to 17 popular file formats, including MS Excel, HTML, XML, PDF, and more. Customizing output files by adjusting header and footer, fonts, colors, data formats, encoding, etc., is easy.

Lastly, the ASP.NET Generator module creates customizable web pages for users to work efficiently with PostgreSQL tables, views, and queries through the web. The generated scripts can be protected by advanced security settings, and users can personalize web pages by manipulating color schemes, images, fonts, etc.

Overall, PostgreSQL Data Wizard empowers users to manage their PostgreSQL data efficiently and accurately, making it a software worth considering for database management.
What's New
Version 16.2: Version 16.2 features two new wizards for unloading and loading BLOB data, updated Data Import tools, command-line builders for all the wizards as well as some other new features.