Recovery Toolbox for PowerPoint is a user-friendly software that can efficiently recover corrupted PowerPoint presentations in both .ppt and .pptx formats. It quickly retrieves data from unreadable or damaged files.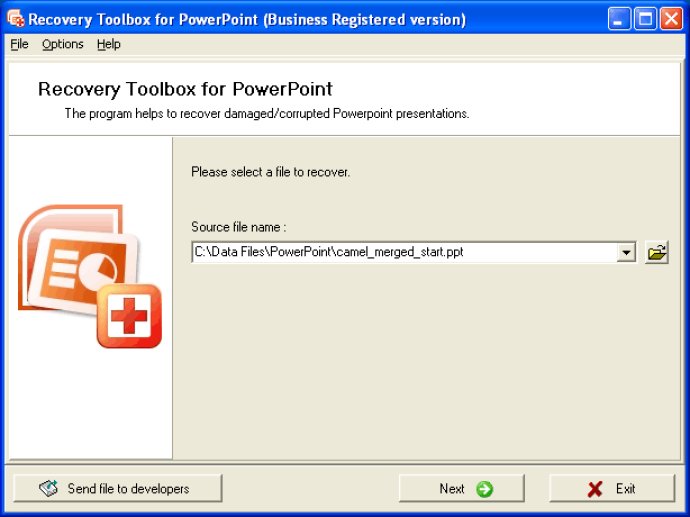 If you are struggling with corrupted or unreadable MS PowerPoint presentations, Recovery Toolbox for PowerPoint can be your effective assistant to recover your files. This software enables you to quickly retrieve data from presentations created in both old and new formats, PowerPoint 97-2003 (.ppt) and PowerPoint 2007-2010 (.pptx).

Using an intelligent scanning algorithm, Recovery Toolbox for PowerPoint will analyze the content of your corrupted file and determine the extent of the damage before recreating the presentation. The program is designed to recover not only the alphanumeric data but embedded objects such as pictures, tables, animations, and audio files as well.

This software is capable of recovering maximum content subject to the extent of the damage. And, in case it cannot repair a severely corrupted file, the developers can analyze and try manual recovery.

Corrupted .ppt or .pptx presentation is a common problem faced by many PowerPoint users. MS PowerPoint is the go-to software for creating presentations, but hard drive and file system errors caused by PC malfunctions and malicious software attacks, lead to corrupted files. Most of these failures happen right before important business meetings, project presentations, or scientific conferences.

With Recovery Toolbox for PowerPoint, you can recover your corrupted presentation in a matter of minutes. This software will save you hours that would have been spent trying to manually recover the slides.
What's New
Version 2.2.7: Support Microsoft Office 2010.