RoboMail is an email marketing software that features a built-in email server enabling users to send personalized emails without relying on ISPs. With this tool, users can quickly and easily send newsletters, new product releases, and promotions to customers and stand out from spam emails.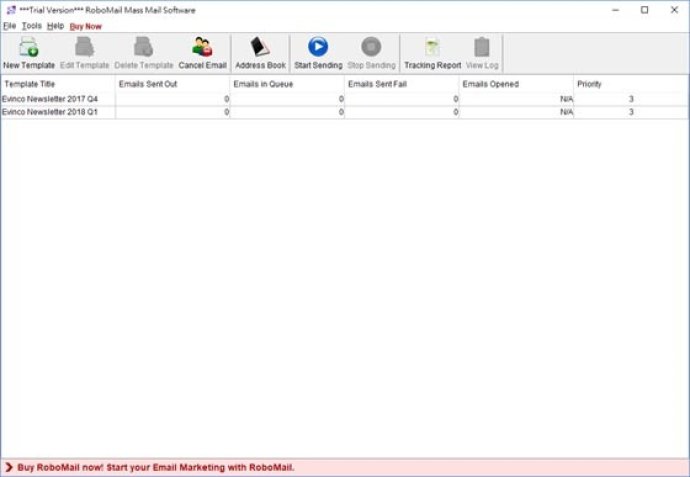 RoboMail is a comprehensive mass mail software that comes with a built-in email server, thus allowing the user to send out emails without using their internet service provider's (ISP) server. The software enables the user to send personalized emails that stand out amidst tons of junk mail. The user can efficiently send newsletters, product releases, and promotional events to customers.

RoboMail eliminates the need to invest in promoting products at a considerable expense. The software significantly reduces costs and enables users to reach a wider audience effectively. With RoboMail, users can send personalized emails that increase customer engagement and foster brand loyalty.

In essence, RoboMail enables users to explore more business opportunities by providing effective and low-cost email marketing solutions. So, if you want to take your marketing efforts to the next level, RoboMail is the software for you!
What's New
Version 6.5.0: Update software kernel
Version 6.4.3: Update database kernel; Improve software update process
Version 6.4.2: Update database kernel; Improve software update process
Version 6.4.1: Improve compatibility of embedded image in email
Version 6.4.0: Update database kernel
Version 6.3.0: Support drag and drop in email attachment; UI improvement on recipient
Version 6.2.4: Improvement on user interface; Update kernel target version; Update documentation
Version 6.2.2: Improve sorting function in email template list and address book; Improve compatibility on Mac Big Sur
Version 6.2.1: Revamp user interface of adding address group to email template; Improve speed to adding email address to email template
Version 6.2.0: Improve software startup process; Other minor fixes