Recover data and repair failed RAID arrays with a tool that works with RAID 0, 1, 4, 5, 6, and other uncommon arrays. It's compatible with many software-based and specialized RAID controllers and file systems.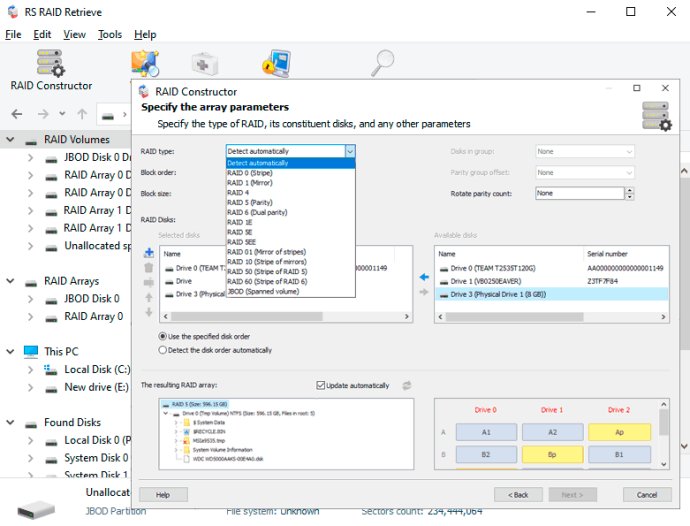 RS RAID Retrieve is an essential Windows tool for repairing multi-disk storage arrays and recovering data from failed, corrupted, and degraded RAID arrays. It is compatible with a wide range of dedicated and software-based RAID controllers and can reconstruct volumes spanned across multiple disks.

With RS RAID Retrieve, you can retrieve information from RAID 0, RAID 1, RAID 4, RAID 5, RAID 6, and many types of exotic arrays. The tool works by connecting the disks directly to your computer, reassembling the array entirely in software, even if the original RAID controller is not present.

One of the best features of RS RAID Retrieve is its ability to offer an easy solution for NAS users with degraded single-disk and multi-disk volumes. The tool can detect the type and configuration properties of most common RAID types used in various commercial NAS units, reconstruct, and repair the array automatically.

Furthermore, with RS RAID Retrieve, you have the ability to migrate data from a failed NAS device. The tool can read files and folders from multi-disk volumes, saving them onto a different storage media or network location.

RS RAID Retrieve puts the highest priority on your data. It offers a safer alternative compared to the NAS itself, which would try repairing the degraded array, causing subsequent disk failures. RS RAID Retrieve, on the other hand, can recover your data without a lengthy rebuild.

If you are dealing with a logical corruption, RS RAID Retrieve is your go-to tool. Whether a volume is corrupted or deleted, the tool can automatically repair the damage and help you safely access the data.

RS RAID Retrieve is also capable of dealing with striped multi-disk arrays with one or more disks missing. It can fully recover data from a RAID 5 missing a single disk or a RAID 6 missing one or two. The tool can even apply its expertise to exotic RAID types.

Overall, if you are looking for a reliable, comprehensive, and easy-to-use tool to help you recover data from failed multi-disk storage arrays, RS RAID Retrieve is an excellent choice.
What's New
Version 1.0: N/A