Freeware-Chess is a user-friendly chess software that offers a wide range of features including an opening database, game protocol, cancellation of moves, and hints. It also allows for swapping and setting of chess pieces, PGN save/load, and FEN provision. The software is available in English, German, and French and is small, portable, and free of adware, spyware, and advertising.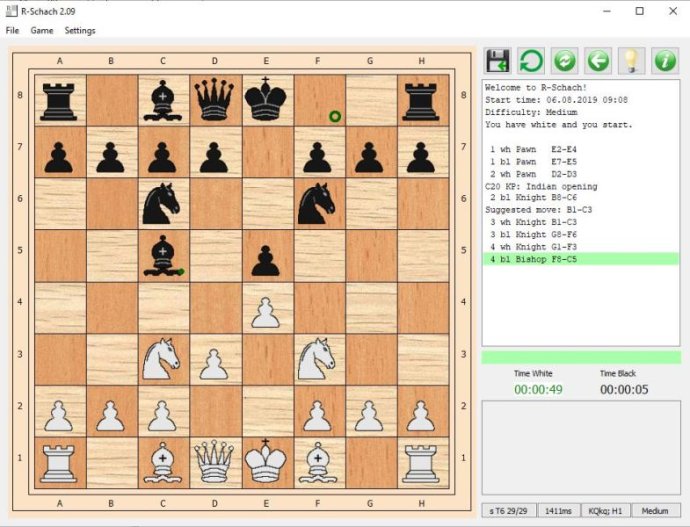 Are you an avid chess player looking for a new software to play against? Look no further than my simple chess application, now available for free!

The user experience is incredibly easy, with no need to consult a manual. While it may not quite be up to the level of a chess champion, the program offers a great exercise for both beginners and advanced players.

Additionally, the program runs smoothly on both Android mobile and Windows, ensuring convenience no matter what device you are on. In terms of features, the program includes an opening database, protocol, and five levels of difficulty. Hints, the ability to cancel moves and swap chessmen, and a feature that allows you to set any desired chessmen add to the appeal of the program.

Other standout features include the ability to save and load games in PGN, provide FEN (Forsyth-Edwards Notation), and support for English, French, and German languages. And, with its small and portable size, it even runs smoothly from a USB-Stick with no installation necessary.

Perhaps most importantly, the program is free of adware, spyware, and advertising, and does not make any external calls. With all these features and more, my simple chess application is an excellent choice for any chess enthusiast.
What's New
Version 2.09: Erweiterung:
Mensch kann jetzt Remis anbieten
Infodialog überarbeitet
Android:
Anwendungsverzeichnis Android jetzt über PC (USB) lesbar
Protokoll: Text war manchmal nicht in einer Flucht.