Simple Random Wallpaper is a software that sets random wallpapers from a list of images or folders after a certain time interval for either current or all users. The software allows for the importation of image file paths and parameters using Text files, CSV files, and Excel files, and has easy drag and drop functionality.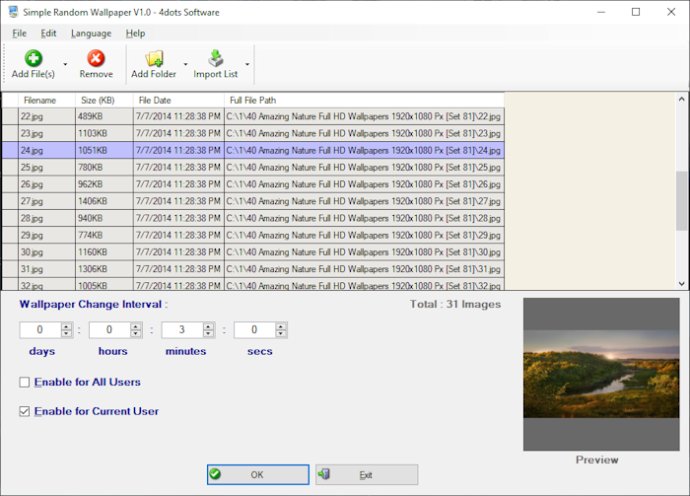 The Simple Random Wallpaper software is an excellent tool that allows you to easily set a random wallpaper from a specified list of images or folders. This software also allows you to change the wallpaper after a time interval.

The program has a great feature that allows you to import image file paths and parameters from Text files, CSV files, and Excel files. You can quickly and easily drag and drop files into the program.

This software is designed with the user in mind, offering an easy-to-use interface that is suitable for beginners and experienced users alike. Additionally, it is multilingual and has been translated into over 39 languages, making it accessible to a wide variety of users.

One of the best features of Simple Random Wallpaper is that it allows you to change your wallpaper automatically based on a specified time interval. It is also possible to set the wallpaper to change randomly, providing a fresh and interesting background every time you log in or change the wallpaper.

Overall, Simple Random Wallpaper is an excellent choice for anyone looking for an easy way to manage their desktop background images. Its features, usability, and language options make it a must-have for anyone who loves customization and variety.
What's New
Version 1.1: Initial Version