iLike for Mac allows easy access to all iOS content, including music and photos. It features file transfer from iOS devices to iTunes, and enables export of contacts, notes, and messages.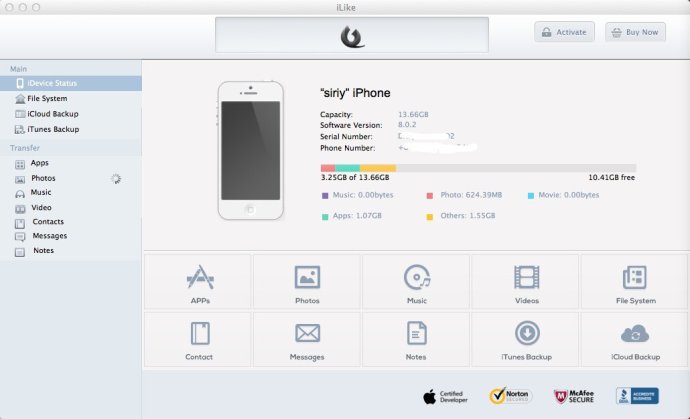 iLike for Mac is an excellent all-in-one utility designed to help you access your iPhone, iPad, or iPod touch. This software offers a whole new approach to system maintenance by allowing you to access files on your iOS device just like a typical USB flash drive. Additionally, it offers the ability to transfer files to and from your iOS device, browse and export your iTunes and iCloud backups.

One of the main benefits of iLike is its ability to facilitate file transfers from your iPhone or iPad to your Mac or iTunes with just a single click. With iLike, you can quickly and easily export music files, photos, videos, apps, contacts, messages, and notes with complete safety and security.

Furthermore, iLike provides you with an intuitive, organized dashboard that reads the information from your iOS device, iTunes, or iCloud backup to present content to you in a user-friendly way. Through the File System tab, you can view, open, browse, add, delete, and export documents and files from your iOS device with ease.

To make things even better, iLike offers a convenient backup tool which enables you to easily create a backup of your iPhone. Using the iTunes and iCloud Backup Browser, you can also view, browse, and export your backup files—including photos, contacts, messages, notes, call log, calendar entries, and Twitter or Facebook list files—with seamless ease.

Overall, iLike for Mac is an impressive utility that provides a comprehensive system maintenance solution for accessing, transferring, and managing files and backups on your iOS device.
What's New
Version 2.8.9: Bugs fixed