Challenge yourself with the classic card game – take on the ultimate test.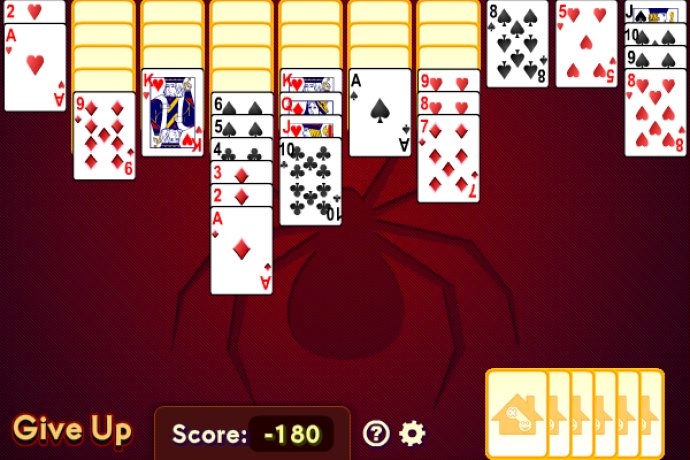 If you are a fan of Solitaire games and looking for a new challenge to showcase your skills, 4-suit Spider Solitaire might be worth checking out. This game tasks you with arranging the cards by suit from K to A in order to remove them from the tableau piles.

The game starts with 10 tableau piles, where each of the four piles on the left contains four downturned cards and each of the remaining piles contains three downturned cards. Afterward, each of the tableau piles will be dealt one upturned card. The remaining cards will be downturned and divided into six stock piles at the bottom right corner.

To move cards, a group of cards built down by suit or a single card can be transferred to another tableau pile if the move is in sequence. For instance, a 3 of spades and a 2 of spades can be moved to a 4 of hearts on another tableau pile. The downturned cards on the tableau piles will reveal when the upturned cards are removed. An empty tableau pile can be occupied by any card.

If no more moves can be made, clicking a stock pile will deal new cards. However, this can only be done when all the tableau piles are occupied by cards. A penalty of 10 points will be deducted for every move made, so aim to complete the task with the fewest number of steps.

If you find the game too challenging or unsatisfying, you can click the Give-Up button at the bottom left corner of the screen to quit the current game. Overall, 4-suit Spider Solitaire is a unique variation of Solitaire that can provide hours of entertainment and test your card game skills.
What's New
Version 1.3.2: Added 2 language versions