Enjoy a thrilling strip poker game accompanied by sexy interactive videos of real girls in multiple languages. Choose from five beautiful opponents who will indulge in hundreds of sexy gestures and spicy talks. The high definition, wide-screen video quality enhances the entire experience.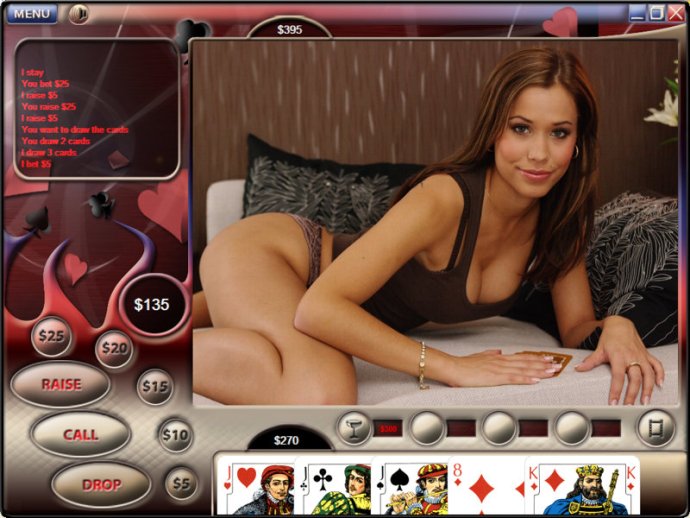 If you're looking for a truly immersive experience in the world of hot strip poker, then Strip Poker Supreme Pack 7 could be just what you need. Packed with interactive video, this PC game features real, sexy girls playing against you for the ultimate stakes.

With a choice of five beautiful opponents to undress in the full version, you'll be spoilt for choice. Will you take on the sexy ex-marine Amber, the diligent and surprising Lilly, the frivolous journalist Julie, the fiery noblewoman Liz, or the seductive broker Ines? Whichever girl you choose, you can expect hundreds of sexy gestures and bluffing tactics as they try to seduce you and win the game.

Not content with just playing poker, you can even offer the girls drinks to really heat up the atmosphere. Or, if you're feeling daring, you could try to bribe them to strip off even more pieces of clothing than you've already won from them. With the girls playing hard and careful one moment and completely careless the next, every single game is different.

But what really sets Strip Poker Supreme Pack 7 apart is the uncompromising picture quality. With big, sharp, DVD quality widescreen video, you'll feel like you're right there in the room with the girls. And with the game available in many languages, including English, Czech, Dutch, French, German, Italian, Polish, Portuguese, Russian and Spanish, there's never been a better time to try your hand at the ultimate game of strip poker.
What's New
Version 1.37: Strip Poker Supreme Pack 7 is available in 16:9 wide-screen format and DVD quality.