SpotFTP is a password recovery software that retrieves FTP login credentials for a variety of clients, including FileZilla, WS_FTP, CuteFTP, and more. It enables users to recover forgotten or lost login information with ease.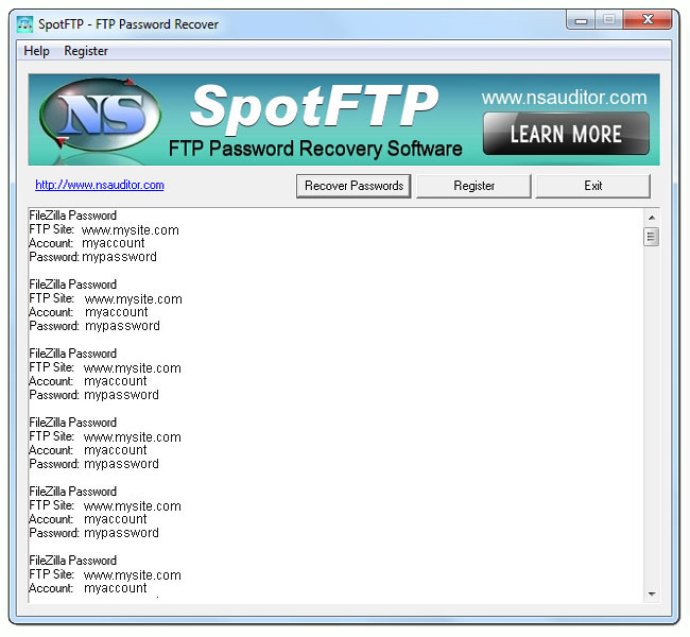 SpotFTP is a highly effective FTP password recovery software that is designed to make life easier for anyone who has ever forgotten their passwords. It works with a variety of popular FTP clients including WS_FTP, FileZilla, CuteFTP, Microsoft Expression Web FTP, and many more.

Whether you need to access your passwords due to forgetfulness or to retrieve confidential information stored on your computer, this software can help simplify the process. Its user-friendly graphical interface makes it easy to navigate and find what you're looking for.

With SpotFTP, you can recover both FTP usernames and passwords for a wide range of clients including DeluxeFTP, 32bit FTP, WebDrive, FTP Voyager, SecureFX FTP client, FTP Navigator, FFFTP, AutoFTP, CoffeeCup Direct FTP, and FTP Control Passwords.

Overall, this software is an excellent tool to have on your computer, especially if you regularly use FTP clients and want to avoid having to remember multiple passwords. Its ability to recover lost or forgotten passwords is unmatched and its user-friendly interface makes it easy to use.
What's New
Version 2.5.0: Added Microsoft Expression Web FTP password recovery