This free spreadsheet software offers advanced features for effortless data calculation, analysis, reporting, and visualization. Its built-in help system simplifies complex formulas, making it a convenient tool for managing data efficiently.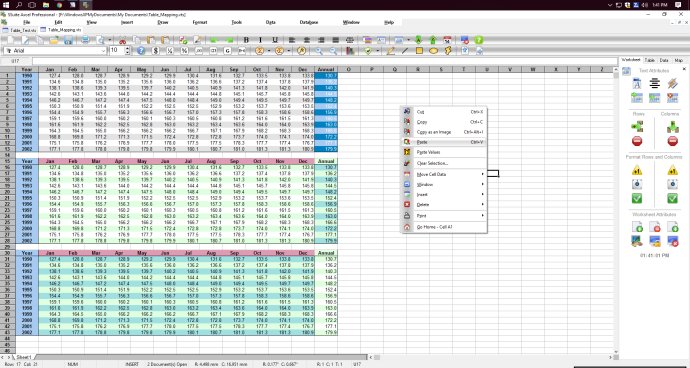 I recently had the opportunity to try out SSuite Axcel, a professional spreadsheet application that is perfect for both personal and office use. And the best part is that it's completely free! This software is packed with all the tools you need to calculate, analyze, summarize, and present data in numerical reports or colorful graphics. The integrated help system makes entering complex formulas a breeze, and you can easily pull in external data using ODBC.

One of the standout features of SSuite Axcel is the chart wizard, which allows you to choose from a wide range of 2-D and 3-D charts to visualize your data. Whether you're working on financial reports or managing personal expenses, this software provides you with the efficiency and flexibility you need to accomplish your goals. With just a few mouse-clicks, you can reorganize your spreadsheet, format ranges according to special conditions, and calculate subtotals and totals.

But what really impressed me was the ability to present spreadsheet data in dynamic charts that update automatically when the data changes. It's a fantastic feature that adds a whole new level of interactivity and professionalism to your reports. The new version of SSuite Axcel also includes a range of additional features, such as an updated read me document, enhanced help files, and a refined interface with improved user-actions and menu icons.

If you're interested in trying out more software from SSuite, they also offer a free online office suite and their own web search engine. Installation is a breeze and after reading the "Read Me" file, you'll have the best user experience and software performance. For the online edition, all you need is a display size of 1366 x 768 and Internet Explorer 11 - no Java or DotNet required.

Overall, I highly recommend SSuite Axcel Professional as a powerful, flexible, and completely free spreadsheet application. Not only will it meet all your needs, but it's also green energy software, helping you save the planet one bit at a time!
What's New
Version 2.4.6.1: Updated and enhanced all aspects of this application and its addons.
Version 2.4.2: Updated and enhanced all aspects of this application and its addons.